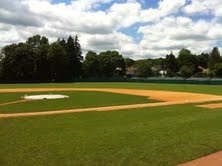 There is not a straightforward way to reach the quiet hamlet of Cooperstown, NY, home of the National Baseball Hall of Fame. Google maps will send you past every dairy farm in upstate New York. I think at one point we even passed the Bubble Boy's house.
It might not be the easiest place to find, but Cooperstown is certainly the perfect spot to spend a Friday afternoon in early July.  We didn't go through the actual Hall of Fame museum, choosing instead to walk around and snap a few photos of Doubleday Field, a place where I was fortunate enough to play a couple of baseball games back when I was in high school. It had been quite a while since I last visited Cooperstown and in that time I had totally forgotten how short the right field porch is. Only 312 feet down the line is a very tempting distance for a left handed hitter.
It was also nice to see that Doubleday Field is used regularly as the homefield of the Cooperstown Hawkeyes, a New York Collegiate Baseball League summer team. Fields as historic as Doubleday need to be kept busy, otherwise they become overgrown relics of yesteryear.
A Quick Trip Around the Bases
1B – Call it what you like. Grade 1. Mild strain. Day to Day. But however you choose to diagnose Jose Reyes' latest hamstring injury, one thing's for sure, the timing of this latest setback couldn't come at a worse moment for the Mets or Reyes. Everyone involved is saying that the All Star shortstop could be back in the starting lineup as early as Tuesday in Los Angeles but for a player like Reyes, who has a long history of hamstring issues, the Mets will most likely be airing on the side of caution. This injury does once again raise questions regarding whether Jose Reyes is durable enough to command the type of long term contract he had positioned himself for after his historic first half to the 2011 season.
2B – So who is at the top of the 2011 All-Star Game "snub list"? CC Sabathia? Victor Martinez? Andrew McCutchen? How about  White Sox 1B Paul Konerko? Many consider Konerko a top 3 MVP candidate and he has certainly more than made up for Adam Dunn's  historic first half incompetence.
3B – Recently, the most subtle move up the standings has been the ascension of the Angels out in the AL West.  Anaheim has won 8 of 10 games and moved into a tie for first place with reigning American League champions the Texas Rangers. Here on the East Coast we don't hear a lot about the Halos but should probably start paying more attention to players like Jered Weaver, he of the 1.92 ERA.
HR – Derek Jeter played 6 innings of pain free baseball for AA Trenton and is now scheduled to return to the Yankee lineup Monday vs the Indians in Cleveland. Upon hearing this news, thousands of Yankee fans packed up their SUV's and headed out west on I-80 hoping to reach Progressive Field in time for Jeter's 3000 hit. Do you think manager Joe Girardi holds Jeter out of the lineup if he inches a little closer to 3000 just so he can reach the milestone at home in Yankee Stadium next weekend? Stay tuned.