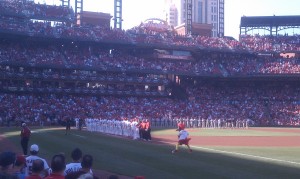 It's not very often that you have four playoff games in a single day. Yesterday was an instance where you had roughly 10 straight hours of baseball on TV so if you happened to be unemployed, or bored with your job, Tuesday served as an excellent opportunity to kill valuable brain cells.
Yankees 10 Tigers 1 – Heading into last night, I was surprisingly confident that the much maligned AJ Burnett would help the Yankees force a game 5 in their series against the Detroit Tigers. All thanks and praise should go to Curtis Granderson who made two PHENOMENAL run saving catches. Now, as they had back to the Bronx, smart money moves back to the Bombers. However, should the Tigers win Thursday night, expect New York sports radio to be filled with all kinds of "fire Joe Girardi and ARod" talk.
Rangers 4 Rays 3 – Rays manager Joe Maddon is a pretty enlightened dude. From the horned rim glasses to the flowing white locks, throw a black turtleneck on him and he becomes something out of a Kerouak autobiography. Wouldn't Maddon fit in perfectly alongside Dean Moriarty and Sal Paradise cruising through the Salton Sea? Unfortunately, "the Dude" couldn't help the Rays overcome Adrian Beltre and the Rangers who move on to the ALCS to face the winner of Yankees/Tigers.
Diamondbacks 8 Brewers 1 – The Diamond Dogs live to fight another day in the desert. Very rarely do sideline reporters say anything newsworthy, however, last night was an exception. Sam Ryan, reporting from the dugout, mentioned how Arizona pitcher Josh Collmenter developed his strange "ferris-wheel" like pitching mechanics by throwing a small axe at a tree stump. As I joked last night, if the Coen brothers were watching the game, Collmenter should expect a phone call soon to star in their next movie, Fargo 2: What Lies Below Paul Bunyan's Beard.
Phillies 3 Cardinals 2 – My favorite opening round series is the matchup between the Cardinals and Phillies. Two great baseball cities with boat loads of marketable stars and two iconic managers. Unfortunately for St. Louis, most of their players seem to be walking around the diamond with some sort of limp or in the case of Lance Berkman, a pretty sweet mullet.