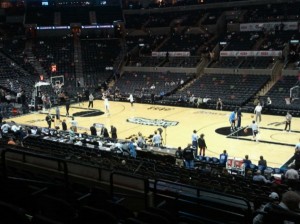 Belated congratulations to Garry Neal and the San Antonio Spurs for staving playoff elimination off for at least one more game. My only concern, why wasn't that play at the end of regulation drawn up for Matt Bonner? Bonner = Playoff Assassin.
Tonight is all about the 2011 NFL Draft. I have nothing funny or prophetic to say about the NFL Draft. My current disinterest is the direct result of the current lockout/labor uncertainty. Why should I care about this draft when there may not even be a 2011 season?*
*I still maintain that owners/players will come to their collective senses before forcing the cancellation of any regular season games. Too much money at stake, even for the detached ego's of American's top .01%.
Will Cam Newton go first to the Carolina Panthers? Does Ryan Mallet's alleged addiction(s) cost him a shot at the first round? Will Belichick and the Patriots trade out of the early rounds once again only to amass future first round picks which they will also never use? Will Roger Goodell be booed like Charlie Sheen on a comedy tour?
Answers to these questions and many more do not really concern me tonight, not when I have to go to sleep super early in order to wake up in time, and well rested, for the Royal Wedding.