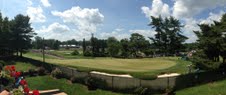 The traffic wasn't nearly as bad as advertised. In fact, I can't recall a more enjoyable journey down the New Jersey Turnpike. Even the full service gas station attendants were exceedingly accommodating, except for that guy on the motorcycle at the adjacent pump. And buddy just in case you were still wondering no one enjoys Christian rock as much as you.
The directions read simple enough: corner of Darby and Golf View. But what about the police barricade at the end of Ardmore? Surely the uniformed policer officer will understand our predicament. No, ok, we will find another way. Ellis looks good. Can't stop us now. Uh-oh, another checkpoint. Time to call the man, have him explain who we are. No time for pleasantries, we will see you on the inside. Park down the street and look for the white tents.
Leave your cellphone in this ziplock bag but before you do tell us who you are. What was that? Not on the list? Surely you're mistaken. No? Take a step back, the man is still within view, talking to clients. Perhaps if we wave our arms and explain who we are. No need, names were on the list after all. What company do we work for? What company do you work for? It seems we're stepping into a corporate event. Should have worn different shoes.
Lanyards on. Blue bracelet fastened. Getting thirsty. It's 10:30 in the morning after all. Tip jar optional. Time to check out the viewing area. Two-tiered, high enough to see the top of the wicker basket but discrete enough not to distract the players. This will work nicely. Stomach grumbling. Where was that omelet bar again? Thanks again for the tickets man. Who are we? You know, friends of a friend.
Golfers won't come through for another two hours, plenty of time for another drink. But not tonic, don't enjoy the taste. What's that you say? There's another tent down the road adjacent to 8 fairway? Good idea, better bathroom. Running water. And trail mix, but not in the bathroom. This is a corporate event after all.
Who are we? Friends of a friend. Who are you? A player agent. Yes, Jim Furyk. Heard of him. Sorry he missed the cut. Is he still in his rental house? What's Robinson Cano got to do with it? I'm starting not to believe this guy's story. Lunch is served.
Turkey without gravy. And potato salad. But get to it before the heat does. And grab a napkin, we're guests after all. Maybe we should try to get on the course? Should be easy enough, we'll just ask a patron as they're walking off the course. Or maybe that nice woman under the tent representing some security software for this corporate event. Who are we? Friends of a friend. But we know the man? Well in that case I'll see what I can do.
Golfers nearing our position. Time to scope out a spot. Sun beating down on our foreheads. Good thing I borrowed a stranger's sunscreen. SPF 30 should suffice. What's that noise up above? Is it Rupunzel? No. It's our friend of a friend, here to cast down her hair. Swing around to the front door? But what about these other people standing on the two-tiered temporary stands? Leave 'em. Corporate commoners. They don't know the man.
So great to you. And what a surprise to see you. Is this ok? Should be, it's a bedroom but no time to sleep now. Where's the porch? Directly above the 7th green. Oh look, the wicker basket. And the bottom of the hole. And off in the distance, that's 3 green and 6 fairway. Drinks and food still included? This will really work. Who are we? Friends of a friend.
First group through, KJ Choi. Birdie good. From our vantage point we could have picked the ball out of the bottom of the cup for him. But the signs say be quiet. Better put cellphones away. But only after taking a panoramic. Too surreal to pass up. Quick, before the USGA confiscates your device. Ringers on vibrate. Jalapeño poppers on a warm day. Where was that private bathroom? Down by the 8th fairway. Can't leave these spots now. Other people wondering what we're doing up atop the castle. We know the man. Who are we? Friends of a friend.
TV now on behind us. Leaders approaching our perch. Make sure our cups are full. Stay hydrated, sun is hot. You look tired. Light beer was a bad choice. Where should I put the empty cup? Can't leave on the dresser, it's not my bedroom. I'll just gently place in flower boxes on porch. I won't forget about em. Here comes the man. Thanks for the porch. Do we have some space for your clients? Sure, you're the man, you tell us what to do. Who are we? Friends of a friend.
Tiger coming. Time to get serious. Strike a pose, who knows we might end up in the paper. You look tired, put your sunglasses on. It'll help block the sun. Everyone quiet. Good for par. Can't get it going, lost weekend for the world's #1. Rory made a birdie. But he still doesn't look happy with Nike. Where's that player agent we met earlier? Is he looking up at us with envy? Yes we know who Jim Furyk is.
There's Rosie, the eventual champ. Blue on blue? Or is that black on black? Can't tell. Sun still in our eyes. More clients. Yes we'll move over. You have a lovely home sir. Is that your bed. No that's not our roast beef sandwich on the carpet. We know better than that. Shhhhhh! Sorry, we thought we were being quiet. Corporate event.
Last group. Phil, everyone's favorite. "Philly loves Phil." Or something like that. Tips his cap, probably knows the man. Time to move on, sun too hot. Where are you going? Heading up to the big city. Well thanks for your generosity, didn't expect to be invited into the bedroom. We'll make sure to thank the man again. But first, time to get on the course. Should ask that guy over there. Well you didn't have to swear at us sir. What about you fella? Thanks, we wished we lived in the area too. How about you nice looking pregnant lady with doting husband? Yes one ticket would be great. Two would be even better. Time to check those cellphones again. But be quick, lead groups are heading to 9. Can't forget to thank the man.
On the course now. Pathways are muddy and fairways narrow. They said it was going to be easy but why are there no red numbers? Must have something to do with the rough. US Open rough they say. Deep enough to lose a shoe. Fairway crossing. Feels like carpet. Much different than back home. Should look at becoming a member. Later, that's a tough looking par 3. Careful of the water. And empty beer cups. Lots of thirsty patrons. Good thing the economy is recovering. Need to get ahead of that group right there. But so does everyone else. Quick! A diversion. There's Tiger. Now run the other way. Too late. Fairway closed. Wait with the rest of the cattle. But we know the man.
Now we're towards the finishing holes. Between 15 and 16. Must grab a bite. Been a while since that jalapeño popper. Roast pork and coleslaw. Philly cheesesteak. When in Rome. Bottled water isn't cheap. Well the economy is doing better. No beer thank you. Don't want to end up looking like that guy with the pink shirt and popped collar. What foul language. Careful man there are children. No you can't borrow any sunscreen. Cause I don't have any. Took it from the man's place. Starting to miss the man.
Back to grass between 15 and 16. You the man Strick. Love the Badger. Reminds me of my dad. Must be the way he wears his khakis. Hey, Rick Reilly. What's the story this week? Phil second place again? How's that orange gatorade? Careful of the beer or else you'll end up looking like that guy. He could really use some sunscreen.
Phil playing 16, hidden green so we're left guessing. Patrons all gathering now around the quarry. 17 and 18 jammed. Why not head back to the man's place. Beautiful walk across Ardmore. Empty fairways now. Take a few practice swings down 4. Sprinkler head says 174 but I'm guessing it's longer than that. Maybe an 8 iron. For them wedge. I gotta look at becoming a member.
Back at the man's place. Thanks for holding our cellphones. Need to use that bathroom one more time. What's that? You want your parking pass back. Yes, but of course. You're the man after all. Here you go. And thanks for the memories.
Police barricade is down but the New Jersey Turnpike is still wide open. Turn on the hockey game, going to go all 7. Start talking about the day. Merion my Merion. Who are we? Friends of a friend.