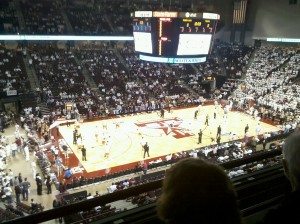 Here is a quick view from Reed Arena during last night's Texas/Texas A&M college basketball showdown.  College Station is an easy three hour drive from Fort Worth, site of radio row for Super Bowl XLV. Today is media day, where players and coaches parade themselves in full regalia onto podiums and in front of microphones, prepared to answer the same questions from the same reporters over and over again.  It has been clear for many years now that media day is in need of a major face-lift. Here are just a few of my recommendations on how to improve this rather monotonous tradition.
1 – All interviews should be conducted on twitter.  This would allow anyone, not just media members with press passes, to ask questions and players could then pick and choose which ones they want to answer.  Twitter has also become a fairly candid forum for professional athletes to bear their souls, perhaps it has something to do with the 140 characters or less.
2 – If the NFL is going to insist on some sort of mass gathering, they should consider organizing the field so that opposing players share tables a la two heavyweight boxers during a tail of the tape press conference.  And you could get really creative with the pairings.  Think about Aaron Rodgers sitting alongside James Harrison or Charles Woodson next to Hines Ward.  Of course you may have a tougher time drawing an audience to Chad Clifton and Aaron Smith but I think you get the point.
3 – Media day should be replaced by a massive scrabble or words with friends tournament.  Nothing too taxing but some sort of informal competition that will allow fans to see another side of their favorite players.  Originally, I thought it would be fun for these athletes to compete in some sort of physical skills challenge but figured the risk of injury was much too high. A harmless battle of wits seems like the best remaining option plus it might be really illuminating to see which athletes have the most extensive vocabularies and who struggles to string together a coherent sequence of consonants and vowels.
So what do you think?  Any chance the NFL takes me up on any of these suggestions?