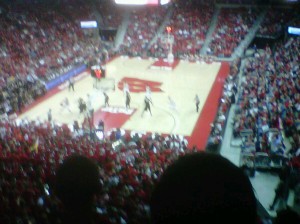 For years, close friends have been making fun of me for watching an inordinate amount of Big Ten basketball. I live in the northeast so one would think I should be predisposed to the ACC or Big East which is not the case. Last night I watched Wisconsin beat Purdue 66-59. I think part of the reason I enjoy watching Big Ten, especially Wisconsin, basketball is because, of all the programs in Division I college basketball, I have the best chance of suiting up and playing for the Badgers.
Please, before you think I have become completely delusional understand that I am only being partially serious. In reality, I know I couldn't play basketball for Wisconsin.  The apex of my basketball career took place during my junior year of high school when I averaged double digit rebounds and dated a senior girl who, by the way, would eventually leave me for one of my teammates.
But back to the matter at hand. There are two main reasons why I think Wisconsin is the type of DI program where I could play.
Reason #1: I can set screens. I'm also good at rolling to the basket after setting a screen which is a requisite skill in a Bo Ryan offense.
Reason #2: I can box out.  Granted, at 6'3″ I would probably be boxing out opposing shooting guards or small forwards which could be a problem because I have slow feet and my man would be both bigger and stronger.  So actually securing a rebound could be an issue but I can tell you that it would not be for a lack of effort. My fitness would probably have to improve as well but with Wisconsin it's all about the system and I have faith that Coach Ryan would put me in the best possible position to succeed.
There you have it. Two reasons why I could play Division I college basketball. My not so secret desire is that someone affiliated with the Wisconsin program reads this post and takes me up on my offer. It's at least worth a pickup game or two.