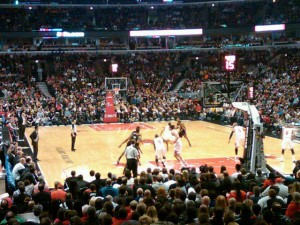 5: Toy Story 3/Amar'e Stoudemire (F, New York Knicks) – With every new Toy Story movie, it feels like a little piece of my childhood fades away.  I can remember when Andy first came home with Buzz Lightyear and now he's (Andy not Buzz) headed off to college? College is no place for a guy who still plays with his childhood toys. This will lead to years worth of ridicule and stunted mental development. Andy has "clock tower" potential written all over him. It's all too much for me to take right now.
Speaking of too much to take right now, how about the minutes Mike D'Antoni has Amar'e playing? It's only a matter of time before both of his knees spontaneously combust. The addition of Carmelo gives fans something more to cheer about but does not mean the Knicks are ready to compete for a championship. The Garden is going to have to wait for 2012 and Chris Paul for that.
4: The Fighter/Dirk Nowitzki (F, Dallas Mavericks) – In between my junior and senior years of college, I spent an entire summer working and playing baseball in Lowell, Massachusetts. It was just like the movie Summer Catch, except there were no Cape Cod beaches and I never did get to see Jessica Biel in a bikini. The general manager of our baseball team, a great old guy who ran a heating/air conditioning business downtown, told us before the first day of practice that it was important for us to avoid Lowell at night.  As I watched The Fighter, I couldn't help but think about college kids being terrorized on the mean streets of the Mill City by the likes of Christian Bale.
Nowitzki fourth on my list is more a testament to the success of the Mavs than Dirk himself.  He's struggled to return to form since an early season knee injury but as the most talented player on a very dangerous western conference team, he deserves at least a mentioning.
3: True Grit/Kevin Durant (F, Oklahoma City Thunder) – My main issue with this Coen Brothers iteration of a John Wayne classic is that Jeff Bridges makes his Rooster Cogburn sound eerily similar to Billy Bob Thornton's character in Sling Blade. It was so distracting that at one point I could have sworn Bridges asked the erstwhile Hailee Steinfeld whether or not she would like some "French fried potaters". My other issue with True Grit was that Josh Brolin received top billing for a total of 4 minutes 32 seconds of actual screen time.  How is this allowed?  This is Hollywood stat stuffing akin to baseball home run records and Tammany Hall elections.
It's only a matter of time before KD wins an MVP award. Probably won't happen this year, unless the Thunder move up a few spots in the western conference before the playoffs, but he has the flashy offensive game and gaudy statistics to at least put him in the conversation.  Another factor that could stand in his way of an MVP award is the emergence of Russell Westbrook. Baseline to baseline, Westbrook might be the quickest player in the NBA.
2: The Social Network/ (tie) Lebron James & Dwyane Wade – Impossible for me to choose between the two Heat superstars.  Both are playing at an unbelievably high levels and their individual games seem to compliment each others much better than anticipated. I still don't think Miami will compete for a NBA championship this season, not enough of an inside presence/defense, but I do expect this core to rattle off 2 or 3 titles in a row sometime in the near future.
The future is now for Facebook. Human culture and the way we communicate will never be the same – see Egypt, Tunisia, Libya, etc. The Social Network was a brilliantly scripted movie. My main issue with the film is that none of the main characters were likable. Couldn't root for anyone of them, especially the Winklevoss twins. Have you ever seen those two in real life? Frightening looking mutants. Some rogue foreign dictator should develop a clone Winklevoss army.  They would instantly become the top threat to global security in the 21st century.

1: The King's Speech/Derrick Rose (G, Chicago Bulls) – I find myself gravitating towards this entire Bulls team. They play hard, great team defense, and a have a likable/brash group of young all star caliber players (Noah, Rose, and Gibson). D-Rose is the total package and has put this team in position to challenge the beasts of the east for a shot at the NBA Finals. One worry, his game is so aggressive/reckless that I feel he could seriously injury himself at any moment.  Same thing goes for Blake Griffin and Luke Harangody.
The King's Speech is everyone's pick to win the Oscar.  It was my favorite movie of 2011 and really what's not to like? Who doesn't enjoy the inspirational story of an underdog monarch overcoming personal obstacles to lead his country during a pivotal time in world history? I am also calling Colin Firth for Best Actor, Christian Bale/Hailee Steinfeld for Supporting, Natalie Portman for Best Actress, and David Fincher for Director. Agree to disagree.