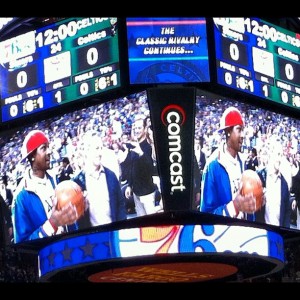 With the Western Conference Finals between the San Antonio Spurs and the Oklahoma City Thunder set to begin this Sunday night now seems like the perfect time to remind NBA fans about the one player that could possibly make the largest impact in this series. Kevin Durant you say? Try again. Tim Duncan? That old coot is still in the league? Russell Westbrook? Tony Parker? No thanks and no chance. Actually, the correct answer to this question was born and raised in the capital of New Hampshire, Concord's own Matt Bonner. And before you runoff and dismiss this conclusion as a simple case of Granite State "homerism", please take 5-10 minutes to consider the following analysis.
For starters, if you didn't already know who Matt Bonner was, something surely no self respecting NBA fan would claim, he was in the news recently when a fellow redhead was suspended from a local San Antonio middle school after showing up for his first period French class with Bonner's beautiful visage carved into the back of his head like he was some sort of Halloween pumpkin. It's not just any ordinary NBA player that has the ability to inspire such peaceful civil disobedience. Whatever barber was responsible for such artistry deserves an incredible amount of credit and perhaps a full ride to RISD. This is the sort of follicle craftsmanship unmatched since the "U Can't Touch This" heyday of MC Hammer.
And speaking of carrot-tops, with all due respect to Brian Scalabrine, Matt Bonner is the best player in the NBA with red hair. In fact, he may be the best basketball player of all time with red hair. (And no, Dennis Rodman does not count.) It's actually quite difficult to think about another current athlete who has had as successful a professional career as Bonner. Not Andy Dalton and certainly not Greg McElroy.
With Bonner it's also about the brains beneath the hair. He graduated from the University of Florida with a 3.98 GPA and was a 3 time Academic All-American and twice voted Academic All-American of the Year. Bonner is such a respected intellect/inspirational leader that he was elected by his peers to serve as one of the main reps for the NBA players union during the latest labor dispute. Check the video, Bonner was usually one of the first players seen lurking loyally behind Derek Fisher and Billy Hunter, he of the worst case of nepotism since Bill Belichick hired his son as an assistant coach for the Patriots.
This debate can all but be settled on the basketball court where Matt Bonner is the master craftsman of the 3 pointer, even though his shooting mechanics put him somewhere between the finger flicks of Shawn Marion and the slider spin of Joakim Noah. And so what if it looks like he learned how to shoot a basketball by practicing on one of those Fisher Price $24.99 specials suitable for kids 5 and under. Knock the style all you want but with Bonner the proof is in the porridge and over the last 5 or so years he has been one of the best 3 point shooters in the NBA. He led the league in 2010-11 making roughly 46% of his bombs from behind the arc and during this truncated regular season Bonner finished 15th in the league shooting a measly 42%. Just to give you some perspective, that's better than both James Harden and Kevin Durant. Not too shabby for a guy from New Hampshire who looks like he learned how to shoot by watching Rade Butcher in Hoosiers.
And while it may be true that Bonner has become somewhat of a defensive liability due to his lack of lateral quickness you can't really fault the guy. He is after all wearing New Balance basketball sneakers. As we all know New Balance has become the official shoe of antique furniture refurbishers from Brooklyn, Canadians, and fathers over the age of 55. When dads reach the appropriate age they are each sent a pair of white 622's which they are then required to sport whenever walking through airports or amusement parks. And while Bonner's NB's are a bit more stylish than your dads, has there ever been a more perfect pitchman for the New England based shoe behometh than a 6'10" guy with red hair from New Hampshire?
The fact that Matt Bonner is occasionally lost in the San Antonio shuffle of a incredibly deep Spurs rotation is more a testament to the front office's foresight in scouting out hidden global gems than it is his ability to contribute to the team. Bonner is such a classy team player that he doesn't mind sharing the stage with valuable role players like Tiago Splitter, Gary Neal, DeJuan Blair, and Captain Jack. He doesn't need to play more than 15 solid minutes a game to make a difference. For the Spurs, it's all about running their offensive sets. Bonner is the master of the high pick and pop where Tony Parker rubs his defender off a screen and either takes the ball all the way to the basket or kicks it out to Bonner for a wide open 3 pt attempt. Bonner is also an excellent rebounder who has a nose for the long distance offensive putback. When it comes to understanding angles and geometry he might not be Kevin Love but he's certainly gives the glass more effort than the always mercurial and mystifyingly talented Andrew Bynum.
The Oklahoma City Thunder have a very important decision to make other than what monochromatic color pattern they're going to arm their rabid fans with. Head coach Scotty Brooks needs to figure out how they are going to guard Matt Bonner. Do the Thunder go big or small against the oversized three point assassin? Each strategy has its flaws. If you match up with a bigger more physical post player like a Kendrick Perkins or Serge Ibaka then you provide the "quicker" Bonner with much more room to operate around the 3pt line. You also keep the NBA's best shot blocker Ibaka away from the front of the rim thus allowing slashers like Parker and Manu Ginobili to glide to the the basket unfettered and unmolested.
So the Thunder could decide to go small on Bonner putting a hybrid like Thabo Sefolosha, James Harden or Durant on him. Again, by matching up a guard on Bonner you have effectively created mismatches across the court. Who then is going to guard Ginobili? Or what about the uber athletic Kawhi Leonard who is becoming a devastating 3 point shooter in his own right?
Matt Bonner's greatest asset to San Antonio is his ability to create mismatches on the offensive end of the court. Gregg Popovich and the Spurs have had to live with Bonner's defensive liabilities before and they will not allow themselves to be cut to pieces when he guards the offensively limited Perkins or Nick Collison. With Bonner, the upside far outweighs any inadequacies. What else would you expect from a 6'10" redhead from New Hampshire?