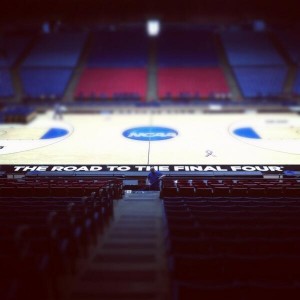 Back when I was in high school I always took great pride in never missing a day of class. My desire to go to school was one part academic integrity and two parts not wanting to miss practice after school. The only day  when I would ask my folks to phone it in for me was day 1 of the NCAA tournament.
The internet has made it infinitely easier to follow the action from your cubicle but that doesn't mean that there will not be an inordinate amount of professionals calling in sick on either Thursday or Friday. To make things easier for those of you who haven't saved up those sick days here's a quick list of the one game per time slot with missing work for.
Thursday
12:40pm (6) Butler vs (11) Bucknell – Nothing gives Northeastern elitists more satisfaction than making a case for the Patriot and Ivy League. I'd love to be able to empathize with the academically entitle sect but sadly the NESCAC failed to receive a bid yet again. In any case, Bucknell has a good player in center Mike Muscala and Butler has created a national following on account of back to back Final Four appearances. This game would have been much more interesting if C.J. McCollum were healthy and Lehigh were representing the Patriot instead of the Bison.
4:10pm (1) Gonzaga vs (16) Southern – This will be the first chance for casual college basketball fans to watch the Zags and star center Kelly Olynyk who looks like Conan the Barbarian but plays like a Gasol.
7:15pm (4) Michigan vs (13) North Dakota St – Nate "the Great" Wolters vs Trey Burke will be one of the best individual matchups in round 2 even though the Wolverines will look to lockdown the Jackrabbit star with either Tim Hardaway Jr or Glenn Robinson III. It may not be bear vs shark but who wins in the animal octagon between a jackrabbit and wolverine? My money's on the jackrabbit. Too fast. Too nimble. Will wear down the ferocious wolverine.
9:45pm (5) VCU vs (12) Akron – If you haven't watched VCU's defense reek #havoc with opposing offenses please make sure you do so with a fully functioning AED nearby because Shaka's squad will produce an irregular heartbeat.
Friday
12:40pm (5) Wisconsin vs (12) Ole Miss – Rebels star shooting guard Marshall Henderson plays with an inflated sense of self and irrational confidence which is fine with the Badgers who are happy to slow the game down and force Ole Miss to chuck up plenty of bad shots. Plus, you never know when Wisconsin coach Bo Ryan will give another inspring halftime interview.
4:10pm (1) Indiana vs LIU-Brooklyn – I'm calling the play-in game for LIU and look forward to the super talented Hoosiers overlooking their round 2 opponents for the next matchup against either NC St or Temple. Plus, you never know when Indiana guard Victor Oladipo will do something spectacular.
7:20pm (8) UNC vs (9) Villanova – Two marquee programs playing for the right to face top seed Kansas in round 3.
9:45pm (7) Notre Dame vs (10) Iowa State – The Fighting Hoibergs are one of my surprise teams to perhaps sneak into the round of 16. Even though this game will be played late at night hopefully the Fighting Irish will refrain from wearing those awful fluorescent green uniforms. Adrian Dantley cannot be pleased.