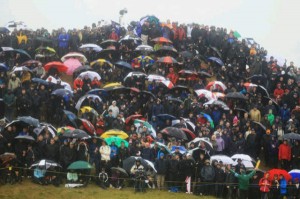 By Sunday morning, I was a little burned out by all the Open Championship coverage. Don't get me wrong, I love that ESPN, unlike other networks covering golf, is willing and able to show the entire round as opposed to just the back 9. But, I knew that maybe I had had enough when my dreams were starting to be narrated by Peter Alliss.
With all the Open Championship coverage I was able to develop a deep familiarity with the players and course. For instance, how did ESPN manage to frame those nuclear power plant silos in the background of every single shot from Royal St. George's? It was like an optical illusion. By Sunday I felt like those omnipresent smoke stacks from Sandwich, England were going to make there way back to my hometown. And with the players, you really start to develop a personal attachment to a golfer when you wake up at 4am on Thursday morning to watch their first shot of the tournament. I never would have guessed that I could have developed such an attachment to Raphael Jacquelin.
It was certainly fun to watch Darren Clarke close out an Open Championship, even with the two Americans, Phil Mickelson and Dustin Johnson nipping at his heels for most of the afternoon. I have always held a fondness for Clarke. It could be because he comes across as a really jovial guy, man of the people if you will, and someone who all golf fans remember watching dominate the 2006 Ryder Cup only weeks after losing his wife Heather to breast cancer. I'm also happy for Northern Ireland. Who knew that a country the size of Connecticut, and the population of West Virginia, would claim 3 of the last 6 majors. Time for New England to step up their golf game!
At some point I hope to spend a fortnight in England catching both the final weekend of Wimbledon and all four rounds of an Open Championship. And after watching as much links golf as I have this past weekend, what with all the rain/wind/sand, at least I'll have a pretty good idea of what to pack.