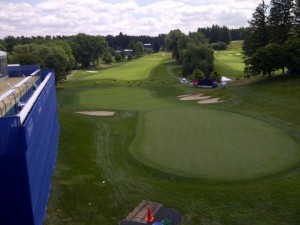 Lesson Learned From The 2012 Open Championship
1) The term "freshening" has come to mean many different things to many different people. Apparently to those fine folks living across the pond as well as the ESPN crew manning the towers for us folks back in the States, the term "freshening" refers to a rejuvenating gust of wind that players must take notice of before attempting their next shot.  Scott Van Pelt alone must have used this term 10 times during Thursday's opening round telecast. As McIlroy steps to the tee a freshening breeze begins to cascade off of the Irish Sea. Might want to think about going with a long iron here eh Curtis?
I don't know about you but every time I hear the word "freshening" I can't help but think of those hot towels airlines used to dispense towards the end of a long flight. That was always such a welcome experience. I could never deduce how they managed the proper balance of moisture to heat. Probably had something to do with the spring roll style presentation. And the tongs. What ever happened to the tongs airlines used to distribute these warm towels? By now they have rightfully been put on some sort of no fly list along with box cutters, pocket knives, and 2 liter bottles of Mountain Dew. Now when you get on a plane all you are offered is a bag of Sun Chips and the duty free catalogue. But then again, you are flying.
2) The weather, or lack thereof was a major disappointment, at least for those of us golf fans sitting on our asses back home. Surely the large galleries of fans and competitors on the course didn't mind a little fun in the sun, especially considering that it led to reasonably benign scoring conditions over the first three days of competition. Part of the charm of the Open Championship is that you can turn on your television and expect to see sideways rain and powerful winds threatening to knock down petite golfers like Luke Donald. As an amateur golfer, part of the appeal of playing through inclement weather is that the experience can make you feel as if you're a running through a gauntlet similar to what the world's best can expect when they tee it up at the Open Championship. It's a very "freshening" experience outlasting the elements, (except lighting, never lightning), that is until you get in your car and realize that it's going to take nearly a week for your seat cushion to dry out.
The forecast for the 2012 Open called for the traditional cloudy with a chance of meatballs but failed to deliver on that promise. Here's hoping for more rain at Muirfield in 2013.
3) Watching golf in the afternoon is great but watching it first thing in the morning while the rest of your family is still asleep is even better. I've never been happier to wake up at 430 in the morning in my entire life. The house was still, the coffee was fresh, and perhaps most importantly, my 1 year old son was still 2 1/2 hours from waking up. Good thing too because as soon as that little rascal opens his eyes the entire house is flipped over on its axis and I'll then have a better chance of seeing Curious George cleanup one of his predictable messes than I will Tiger coming up short with another pitching wedge. I hope Augusta National considers wheeling in huge stadium lights so that we can get a little primetime Masters coverage next April. But that's probably wishful thinking especially for a private club that continues to refer to the fans as "patrons",
4) Fans at the Open Championship really are some of the best fans in the world. I counted only a handful of "You Da Mans" and maybe just one or two "Mashed Potatoes".  If this Championship were being held at say the Greenbrier in White Sulphur Springs, West Virginia that number would have been innumerably higher. And there are countless other reasons for why Open fans are so great including: knowledge of golf history, adherence to etiquette, and ability to pull off the messenger bag while on the golf course. It was as if all 30K or so onlookers had bopped on over to Royal Lytham en route to delivering sensitive materials to a local barrister. I wasn't sure if I was watching a golf tournament or a group of hipsters at a Brooklyn coffee shop.
5) That for all the talk about how golf has never been better and that there are 100 or so talented players that have a legitimate chance of winning a major championship, the cream usually rises to the top. And I understand that with Ernie Els victory on Sunday that makes 16 different champions over the last 16 majors but go ahead and take a look at the leader board on Sunday afternoon: Scott, Woods, McDowell, Els, Donald. These names are some of the games best and when Adam Scott blew that 4 shot lead it wasn't as if someone like Todd Hamilton stepped in to claim the Claret Jug. Els might not have been playing like the hall of famer that he already is but this latest coronation cements his place as one of the games all time best.