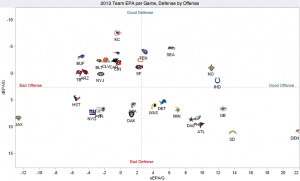 When the 0-5 Jacksonville Jaguars mosey on into the Rockies Sunday to take on the 5-0 Denver Broncos they will enter the Mile High arena as 28 point underdogs, the largest spread in NFL history. Even as four touchdown favorites you'd be wise to lay it all down on Peyton and co. to cover because, well frankly, if there's anything worse than the Jags new two-tone helmets it's been their play on the field which so far this 2013 season has varied between unwatchable disaster to dangerously inept.
It's ironic then that a Jacksonville franchise with new ownership and a front office committed to analytics is at the mercy of some historically awful statistics. The Jags offense has scored 51 points this season, 7 points more than last place Tampa Bay which, mind you has played one fewer game and may or may not be in the throws of a full scale mutiny. So when fans hold a Tim Tebow rally outside of EverBank Field perhaps it's time to listen because it's hard to imagine the prodigal son playing the quarterback position any worse than either Blaine Gabbert or Chad Henne.
Before lumping it all on the offensive side of the ball, some of the blame resides in the defensive huddle where the Jags have given up 163 points, 4 points more than the Philadelphia Eagles, a team with an offense predicated upon limiting their time of possession thus placing a tremendous amount of stress on an already oxygen deficient defense. To be fair, the New York Giants have given up the most points in the league at 182 but if you live in the NY metropolitan area then you know all too well the terrible troubles being unearthed in the Meadowlands this season.
In fairness, the Jags have faced a difficult schedule so far with previous opponents compiling a 16-8 record. But it certainly won't get any easier with the 5-0 Broncos who are on the opposite side of a sabermetricians scale having scored a league high 230 points, 78 more points than the Dallas Cowboys, who, by the way, Denver put up a 51 spot against yesterday afternoon. (And yes, Denver's defense gave up 48 points in victory but at the pace that game was played neither team was capable of stopping the other.)
In the end, the Jags/Broncos game will probably see a very nice television rating because fans, and Vegas, will want to watch what transpires regarding the point spread. For Jacksonville's sake let's just hope Peyton Manning and his backup Brock Osweiler engage in some friendly rock-paper-scissors to determine who plays the second half. Otherwise, things could get ugly. Quickly.
Infographic courtesy of Advanced NFL Stats