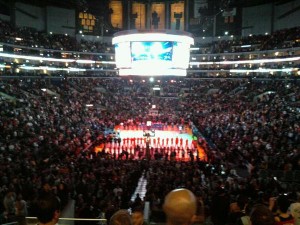 Very rarely do I make a point of watching preseason NBA basketball, especially when it's going up against a pivotal NFL Week 15 Monday Night Football game between the Pittsburgh Steelers and the San Francisco 49ers. However, last night was different because this just wasn't any other preseason basketball game, this was the Los Angeles Clippers against the Los Angeles Lakers. The Clippers, as you know, just completed a blockbuster trade for all star point guard Chris Paul which occurred after NBA Commissioner David "Big Daddy" Stern threw his considerable weight behind blocking a proposed deal that would have sent the prolific Paul to the Lakers. Now, amidst rumors the Lakers could be on the verge of acquiring Magic center Dwight Howard, the "Battle Los Angeles" has been racheted up several notches as we approach the start of the 2011-12 NBA regular season.
Here a few highlights/impressions from last night's preseason Clippers/Lakers game live from the Big Office Supply Warehouse.
a – Any victory over the Big Brother Lakers is a big victory for the Red Headed Step Child Clippers. So while most will look at 114-95 as nothing more than the final byproduct of a glorified scrimmage, to me it is the first sign of an earthquake sized paradigm shift in the City of Angels. Fact: the Los Angeles Clippers will be a much more entertaining basketball team to watch than the LA Lakers. I'm guessing a 4/5 seed and a birth into the second round of the Western Conference Playoffs.
b – I'd had no idea that "jeggings" were permitted in the NBA. Whatever gray "layering" Kobe Bryant seems to be wearing over his upper legs/knees it does very little to cover up all the excess mileage on those 33 year old legs.
c – DeAndre Jordan doesn't need to take a shot outside of the paint, not when he's 7′ tall and plays a good 4′ over the rim. Did you see his 1st quarter dunk last night? Aggressive. Assertive. It was like something out of NBA Jam. It was so terrifying that I almost felt sorry for Pau Gasol and Andrew Bynum.
d – When did Caron Butler come to the Clippers? If healthy, he could be the invauluble "glue" guy that holds the team together on both ends of the court.
e – And finally, I know Simmons has already made this observation, but in all seriousness, when did the Los Angeles Lakers turn into the Indiana Pacers? Josh McRoberts? Troy Murphy? They're a Bobby Plump away from recreating the 1954 Indiana State Championship team.