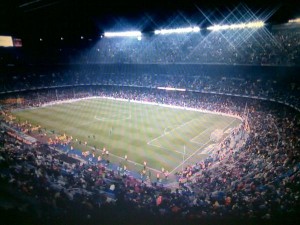 Today marks the 81st running of La Liga bulls with this afternoon's Real Madrid v. Barcelona clash. With stars like David Villa, Christiano Ronaldo, Lionel Messi and Mesut Özil, today's matchup may mark one of the single greatest collections of soccer athletes this side of the World Cup. Skill is not the only thing on display at Camp Nou, these teams attack each other with real venom. There is more pushing and shoving in this match than a dinner party with the Johnsons and the Finnegans. I mean, Ronaldo shoved Barcelona's coach! Haven't seen that since Pedro "Olé'd" Zimmer. Elbows were flying, tackles were arriving late, and, to a man, on every players' face, you could see how important this one game really was.
The match played out as expected, with the exception of Barca's early goal flurry which led to a lopsided 5-0 destruction of Real Madrid. The side from Catalonia controlled possession, with Los Galácticos finding their best chances coming off the counter attack. Announcers downplayed the absence of the stellar Argentine striker Gonzalo Higuaín, being replaced in the lineup by perennial disappointment Karim Benzema, but it may in fact have been Higuaín's absence that spelled defeat for Madrid from the first whistle. They simply could not get their attack in order, with even the best of their opportunities lacking creativity.
One truth remains certain coming out of the exciting match, there is no single player in the world greater than Higuaín's Argentine compatriot, the diminutive, puerile Lionel Messi (his jersey sleeves hang over his hands like he is 10 years old). His speed, his quickness, his creativity, and his pluck set the tone for the match, with Madrid chasing at Barcelona's heels the entire time.
Anyone else find the time today to catch a glimpse of El Clasico? Share your views.