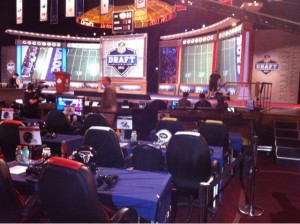 Should the lockout continue into the regular season, here are a few alternative careers for each of the top ten picks in the 2011 NFL Draft
1. Carolina Panthers – Cam Newton, QB Auburn
NCAA Compliance Officer; Indianapolis, Indiana – So he can right all the wrongs the next time a father asks for 250K to rebuild a church.
2. Denver Broncos – Von Miller, LB Texas A&M
Optometrist; Dallas, Texas – So he can finally put an end to all the Marcus Dupree comparisons.
3. Buffalo Bills – Marcel Dareus, DT Alabama
Venture Capitalist; Toronto, Ontario – Because everything in Buffalo is eventually moving to Toronto anyway.
4. Cincinnati Bengals – A.J. Green, WR Georgia
Reality TV Star; Cincinnati, Ohio – Because Terrell Owens probably isn't coming back to Cincy and Ochocinco has to be looking for a new wing man/carnival barker.
5. Arizona Cardinals – Patrick Peterson, CB LSU
Athletic Director; Shreveport, Louisiana –  It does say on the LSU website that he majored in "Sports Administration".
6. Atlanta Falcons – Julio Jones, WR Alabama
Stunt Double; Hollywood – Just recently hired as a stand in for the upcoming Predator sequel.
7. San Francisco 49ers – Aldon Smith, DE Missouri
Grocery Store Manager; Provo, Utah – Oh sorry, I confused Aldon for Alex Smith.
8. Tennessee Titans – Jake Locker, QB Washington
Minor league baseball player; Rancho Cucamonga Quakes – Because accuracy issues are much easier to iron out in the Pacific Coast League.
9. Dallas Cowboys – Tyron Smith, OT USC
Golf Caddy; Kohler, Wisconsin – For the next time Tony Romo tries to qualify for the US Open..
10. Jacksonville Jaguars – Blaine Gabbert, QB Missouri
NHL Analyst on Versus – He really does look just like Jeremy Roenick.