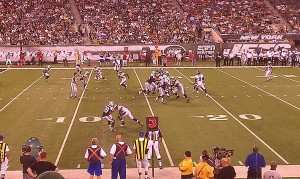 Champs: Philadelphia Eagles (10-6)* – Mike Vick will not stay healthy for an entire 16 game schedule which is why the Eagles held onto backup Kevin Kolb for some extra insurance. They did what? Oh right, so they trading Kolb to the Cardinals and brought in a healthy Vince Young instead. A bad hamstring you say. Right, well it's a good thing Mike Kafka is ready to morph into a starting QB should Vick go down.
On Deck: Dallas Cowboys (9-7)* – Why does the NFL continue to allow Tony Romo to wear that stupid looking backwards Starter cap? I was under the impression that the league only allowed players to wear NFL Equipment gear. If Romo does in fact have his own deal with Starter then I bet he has all sorts of sweet jackets at home in his closet. Too bad there aren't any ski resorts around the Dallas area because he would look so awesomely 80's flying down the slopes in a vintage Jimmy Johnson special to go along with a nice pair of tapered blue jeans.
Limbo: NY Giants (7-9) – Never has a Giant team entered a season with such uneven expectations. To those most loyal fans who expect the GMen to win the division, or even contend for a playoff spot, my question to you is how? Kevin Boss ain't walking through that door anytime soon. And at what point of the season can we expect the Bill Cowher to the Meadowlands in 2012 rumors to begin? Poor Grandpa Tom Coughlin has been on life support nearly his entire career in the East Rutherford.
Chumps: Washington Redskins (6-10) – My father taught me two things in life: 1) always replace your divots and 2) don't bet on a team w/ either an overweight or mormon QB.**
Fantasy Sleepers – Travis Beckum (TE, Giants), Ronnie Brown (RB, Eagles), Mike Kafka (QB, Eagles)**
Ready for Primetime Games – 9/11: Dallas @ NY Jets, 9/18: Philly @ Atlanta, 9/19 St. Louis @ NY Giants, 9/26: Washington @ Dallas, 10/30: Dallas @ Philly, 11/7: Chicago @ Philly, 11/20: Philly @ NY Giants, 11/28: NY Giants @ New Orleans, 12/1: Philly @ Seattle, 12/11: NY Giants @ Dallas, 12/17: Dallas @ Tampa Bay
** Stop it. Like you really think Vick is playing 16 games anyway.
*** Steve Young being the only exception