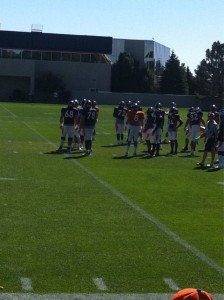 Before we start our AFC West preview, just a few quick words on Tim Tebow, the new 4th string quarterback for the Denver Broncos. Let me preface these words with a quick disclaimer, I'm not a Tebow hater. Never have been. Always thought, given the right system, that he had a chance to be a productive player in this league…as a FB or TE. And sorry if this upsets "the flock" but he can be just as inspirational lining up in a three point stance next to the right tackle as he can under center. Tebow doesn't need to be a QB in order to head butt offensive linemen or wear a microphone for NFL films. The endorsements will keep rolling in as well because he remains a charismatic person, just ask @darrenrovell. But it's time to move on. In the immortal words of Humphrey Bogart: we'll always have the Houston Texans game.
AFC West
Champs: San Diego Chargers – How many children does Philip Rivers have now? I think it's like 6. 6 kids is an amazing accomplishment. I have only one and every night when he falls asleep it feels like Bastille Day/Mardi Gras rolled into one. Rivers must have an amazing support system at home. Either that or he ignores his brood like they are a gaggle of oncoming linebackers.
On Deck: K.C. Chiefs – I'm not totally sold on the Chiefs run in 2010 and have very little to say about their chances in 2011. I will however bring into question the marketing choices made by Matt Cassel. K Swiss is no Fila. In fairness, when you're the QB of the Kansas City Chiefs your options are sometimes limited to Arthur Bryant's BBQ and Bazookas.
Limbo: Oakland Raiders – I like Jason Campbell, always have. In fact, to show my love and affection I'm planning on overpaying for the QB when we hold our fantasy auction draft next week. And I understand nobody cares about my fantasy football league. Talking about your fantasy football league is the equivalent of your parents trip to Belize or the birth of a second child.
Chumps: Denver Broncos – I'm only going to say it once: Denver needs to go back to their old uniforms. I have such fond memories of the light blue and orange and I use to love watching Broncos games from Mile High Stadium. Usually those games were on NBC with Dick Enberg and Merlin Olsen calling the action. Now the Broncos are stuck w/ Invesco Field and the D squad announcing team of Spero Dedes and Solomon Wilcots.
Fantasy Sleepers: Jason Campbell (QB – Oakland), Willis McGahee (RB – Denver), Steve Breaston (WR – Kansas City),
Ready for Primetime Games: 9/12 Oakland @ Denver, 10/31 San Diego @ Kansas City, 11/17 NY Jets @ Denver, 11/21 Kansas City @ New England, 11/27 Pittsburgh @ Kansas City, 12/5 San Diego @ Jacksonville, 12/18 Baltimore @ San Diego