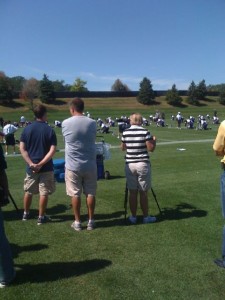 Champs: Green Bay Packers (12-4)* – Honestly, what's preventing the Packers from not being a better team this year than they were last year? I suppose they could take things for granted, enjoy the honeymoon like a lot of previous Super Bowl champs. But I don't see that happening. Not with Aaron Rodgers. Especially not if the Packers QB keeps that dominant handlebar mustache. He looks like a character from The French Connection.
On Deck: Detroit Lions (8-8) – Warning! Warning! The Lions are quickly becoming the sleeper team of 2011. Proceed with caution. I need to see Matthew Stafford play all 16 games before jumping on the Detroit bandwagon. However, Ndamukong Suh is such a dominant force that I hear the Weather Channel is thinking of hiring the defensive lineman to stand in the path of the next hurricane before it makes landfall. Sorry Jim Cantore, you'll have to find work elsewhere.
Limbo: Chicago Bears (7-9) –  I promised myself that I wasn't going to take any cheap shots at Jay Cutler this season. So, I'm not going to tell you that it's about time Cutler dropped those 20 extra lbs and came to camp in shape. You also won't hear me say that I fully expect Cutler to be on the exercise bike as soon as the Chicago weather turns a tad frosty.
Chumps: Minnesota Vikings (6-10) – I am actually starting to believe that the Minnesota Vikings may surprise a few people this year. Donovan McNabb could in fact experience something of a career renaissance in the Twin Cities. Or he could just hand the ball off to Adrian Peterson 30 times a game and let All Day do the work. Either way, I sincerely hope the Vikings are not one of the 2(?) teams heading to LaLa Land in the not so distant future.
Fantasy Sleepers: Bernard Berrian (WR – Minnesota), Matthew Stafford** (QB – Detroit), Marion Barber (RB – Chicago)
Ready for Primetime Games: 9/8 New Orleans @ Green Bay, 10/9 Green Bay & Atlanta, 10/10 Chicago @ Detroit, 10/16 Minnesota @ Chicago, 11/7 Chicago @ Philadelphia, 11/14 Minnesota @ Green Bay, 12/25 Chicago @ Green Bay
* denotes playoff team
**sans the baby fat