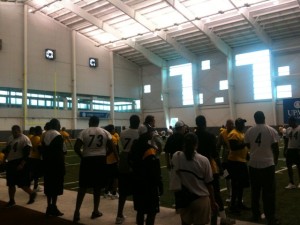 Champs: Pittsburgh Steelers (11-5)* – Why should we expect anything less from the been there done that Steelers? It was a relatively quiet offseason for Roethlisberger and the gang, that is unless you count the Hines Ward DUI as newsworthy. I would also like to apologize to the Pittsburgh Pirates who I apparently gave the kiss of death to once I made them my NL team. You can either blame me or Derrek Lee, it's your choice.
On Deck: Baltimore Ravens (10-6)* – I don't think I have ever heard Joe Flacco being interviewed so I still imagine his voice sounding like a cross between Bubbles best friend Johnny from The Wire and Chewbacca.
Limbo: Cleveland Browns (7-9) – I think I would like Colt McCoy a whole lot more if his name were not Colt McCoy. With a name like that he should be starring in Bonanza. Also, funny that he is backed up by a guy named Seneca Wallace. Rumor has it that next offseason the two QB's will star in a Lonesome Dove remake alongside Matthew McConaughey and Beetroot McKinley.
Chumps: Cincinnati Bengals (2-14) – This is what you get for beating Wisconsin in the Rose Bowl Andy Dalton!!! And you thought being saddled with red hair was enough. Try manning the helm for the USS Suckville. It's enough to make you long for the days of Louisiana-Monroe and Portland St.
Fantasy Sleepers: Lee Evans (WR – Baltimore), Jermaine Gresham (TE- Cincinnati), Jerricho Cotchery (WR – Pittsburgh)
Ready for Primetime Games: 10/2 – NY Jets @ Baltimore, 9/25 – Pittsburgh @ Indianapolis, 10/24 – Baltimore @ Jacksonville, 11/6 – Baltimore @ Pittsburgh, 11/24 – San Francisco @ Baltimore, 12/8 – Cleveland @ Pittsburgh, 12/18 – Baltimore @ San Diego, 12/19 Pittsburgh @ San Francisco
*denotes playoff team
view from Steelers practice courtesy of @ThaRedShirt901