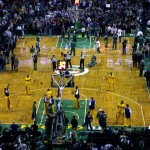 The TD Banknorth Center was witness to history tonight as Ray Allen passed Reggie Miller as the NBA's all time leader in career 3 pointers.  It was a nice moment for Ray and his family as the entire arena celebrated his accomplishment between the 1st and 2nd quarters.  Pretty cool for a guy who might be best known for either his Big East showdown vs Allen Iverson and the Georgetown Hoyas or his star turning role as Jesus Shuttlesworth in Spike Lee's He Got Game.
The game itself, between the Celtics and the Lakers, was all that fans could have hoped for between two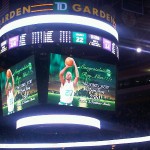 of the leagues best.  I love that both teams wore retro uniforms and warmups. I am somewhat disappointed that the Celtics didn't go with these vintage beauties from when Larry Bird was dominating the 3 point shooting contest. Is it really true that Bird would keep his warmups on throughout the contest because he was so confident he would win that it didn't matter what he wore? That's how legends are made.
views of the TD Banknorth Garden courtesy of @Rose_KG and @Cravenfan