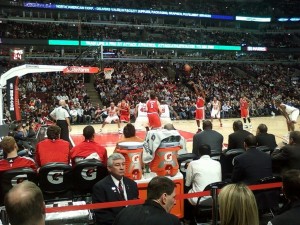 The Madhouse on Madison was rocking last night during the Chicago Bulls 92-83 victory over the Milwaukee Bucks.  With the win, the Bulls improved their record to 31-14 and now enjoy a healthy 13 game lead in the Central Division.  Derrick Rose is the clear frontrunner for league MVP and when Joakim Noah and Carlos Boozer both return from injury, the Bulls will emerge as a team to beat in the Eastern Conference.
I'm sort of surprised so many fans were in attendance at the United Center last night.  I mean, only 24 hours had passed since the Bears were defeated by the Packers in the NFC Championship game and I figured fans would still be marching down Michigan Ave burning effigies of Jay Cutler.  Does yesterdays MRI, which revealed a Grade II MCL sprain, make Bears fans feel any better about the heart of their signal caller?  Have those current, and former, NFL players who called out Cutler for not "gutting out" the injury now since recanted their earlier statements?
Perhaps Frank Deford summed it up best regarding our immediate response to the "Cutler Identity": "It's terrible.  We move entirely too fast without thinking". I agree with Deford that we, media and fans, are sometimes too quick to jump to conclusions.  Twitter and Facebook only exacerbate this 21st century tendency.  Perhaps Jay Cutler, and his wounded knee, would have been treated much more delicately before the advent of the interent and ESPN.  But, as one of the many fans who were too quick to question the severity of his injury, where's the fun in that?