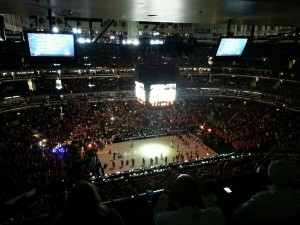 Before the majority of you slackers and middling upper management types start wasting your companies valuable toner Monday morning printing out enough brackets to fill an 18 foot Florida sinkhole, allow me to offer an abridged breakdown that'll surely help cover the cost of your various March Madness pools.
Midwest (Indianapolis)
Big East tournament champs (1) Louisville are hotter than coach Rick Pitino's all white Colonel Sanders suit but leader scorer Russ Smith is a chucker of Costanza proportions and with their team assist to turnover ration nearly 1:1 the Cardinals won't be able to rely on that frenetic full court press like they did against Syracuse Saturday night. (4) Saint Louis is turning into everyone's sexy mid major pick but face a tough road with a potential matchup against underrated (5) Oklahoma St in round 3. Slow and steady usually wins the race and so do yourself a favor and ride with Mr. Consistent Tom Izzo and his (3) Michigan St. Spartans to make it to Atlanta.
West (Los Angeles)
(1) Gonzaga becomes the first mid major ever to be awarded with a #1 seed and they are a deserving pack of Zags having defeated the like of St. Mary's, Oklahoma and Kansas St. during an impressive 31-2 regular season. But the WCC isn't very good and Gonzaga did lose their two most difficult matchups of the season to Illinois and Butler so unfortunately the under-heralded center Kelly Olynyk won't make it past the round of 16. (3) New Mexico has the momentum after winning an intense WAC tourney final over UNLV but the Big Ten was the best conference in college basketball this season which makes (2) Ohio State the favorites out West.
South (Arlington, Texas)
I don't know why they continue to schedule these regional finals in domes other than it prepares players for shooting in the vacant space of half filled football stadiums. Not to mention what an inconvenience it must be coaches to sit on a stool for 40 minutes on account of the raised court. Most of the miserable SOBs are probably already dealing with nasty cases of hemorrhoids on account of watching endless hours of game film holed up in the quiet concrete underbellies of their home arena.   (5) VCU and their #havoc defense should scare the shot out of (1) Kansas in the round of 16 but Shaka's luck is going to run out when the Rams go down to Otto Porter Jr. and the (2) Georgetown Hoyas. Porter and Indiana's Victor Oladipo were the two best players I saw play this season so it'll be nice to see the G'town star receive the dap he deserves when he carries his team to the final four.
East (Washington)
The aforementioned Oladipo and his (1) Indiana Hoosiers are perhaps the most talented team in college basketball which in this the year of no great teams means they'll lose in the third round to either (8) NC State or (9) Temple. (2) Miami looks real good after winning the ACC but I've got a feeling that the tournaments biggest surprise will be (5) UNLV cutting down the Verizon Center nets.
Final Four (Atlanta)
Ohio State over Michigan State, Georgetown over UNLV
Championship Game
Ohio State over Georgetown