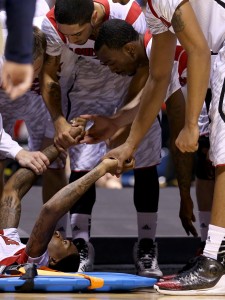 I remember when Tim Krumrie broke his ankle in Super Bowl XXIII and as horrifying as the slow motion of his dangling appendage was, it pails in comparison to the stomach turning agony of what happened to Louisville's Kevin Ware on Sunday night. To watch the scene unfold after Ware crumpled awkwardly to the ground, his shin shattered at a near 60 degree angle, was to witness both the pain and beauty of athletic competition.
The reason many of us play organized sports is because of the camaraderie that develops with teammates and the self sacrifice involved in achieving a collective goal. To be clear we are not talking about war, there is no comparison between the beaches of Normandy and the hardwood of Indianapolis, but the scene in Lucas Oil Stadium after Ware's injury, with his teammates huddling around him holding his arms as he was lifted onto a flat board stretcher, was as touching and inspring a moment as I can remember witnessing. If this overly sentimental hyperbole makes you nauseous I apologize. But be honest, upon hearing that all Ware could say to his Louisville teammates as he was lying flat on his back with a compound fracture, an injury that he may never fully recover from, was 'Just win the game' it's impossible not to be overwhelmed by this simple act of selflessness.
Back to business, Wichita St plays angry but the Cardinals play fast and unlike the Ohio State Buckeyes, the Shockers elite 8 opponent, Louisville can fill it up. Siva and Smith are as good as any guards in the country at getting to the basket and Deng is a human eraser around the rim. Sometimes teams will experience an emotional letdown following a traumatic event but Louisville didn't show any signs of being distracted during their second half demolition of Duke so it'll be best not bet against them in Atlanta.
On the other side of the bracket, Syracuse and Michigan are two incredibly long, athletic teams riding a couple of impressive win streaks. In theory the Wolverines shouldn't have as much of an issue as Indiana di in trying to navigate Syracuse's 2-3 zone. John Beilein is a master technician of the zone defense and has years of experience taking on the Orange back during his days with West Virginia. If anything this game will come down to the Michigan defense being able to pester rangy tweeners like Southerland and Fair. Michigan in a mild upset.