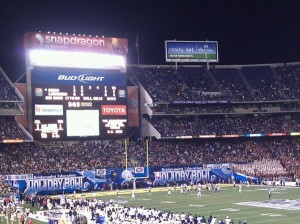 So here we are, Week 17, the final weekend of the 2011 NFL regular season. And while most of us are avoiding the internet as much as possible right now, it wouldn't be fair to deprive you, the cyber audience, with at least one more NFL picks column. I'm sure we'll be posting something insightful and irreverent on the playoffs but until then, enjoy one final trip around the NFL.
NFL Week 17
PHILADELPHIA (-8.5) over Washington – Nice to hear that it only took Nnamdi Asomugha, and the rest of the Eagles defense, only 15 weeks before buying into the schemes of new defensive coordinator Juan Castillo. I'm sure Castillo will be appreciative next season when he is back coaching the Eagles offensive line.
ATLANTA (-11.5) over Tampa Bay – The Falcons are playing to avoid the Saints in round 1 of the NFC playoffs while the Bucs are just looking to escape the Georgia Dome without being crapped on by a flock of feral pigeons.
San Francisco (-10.5) over ST. LOUIS – With a win, the Niners can wrap up a #2 seed and 1st round bye while a Rams loss positions STL for a chance at the #1 pick and Andrew Luck. Could see this one getting ugly early.
MINNESOTA (-1) over Chicago – I'd rather watch Ricky Rubio, Kevin Love and the Minnesota Timberwolves take on Derrick Rose and the Chicago Bulls than sit through 5 minutes of Joe Webb vs Josh McCown.
Detroit (-3.5) over GREEN BAY – To avoid injury, the Packers should make Aaron Rodgers watch this game from the lounge of the Titletown Brewing Company.
Carolina (+8) over NEW ORLEANS – Congrats to Cam Newton! You know you've made it when Dwyane Wade mocks you after sinking the game winning basket against the Charlotte Bobcats.
Tennessee (-3) over HOUSTON – Congrats to Titans head coach Mike Munchak on being the latest in what will be a long line of coaches to reject any and all overtures to return to Happy Valley.
CINCINNATI (+2.5) over Baltimore – The Ravens are too inconsistent on the road and the playoffs can always use more red headed quarterbacks like Andy Dalton.
Pittsburgh (-7) over CLEVELAND – If I'm Mike Tomlin I don't even let Ben Roethlisberger on the team bus. A #2 or #5 seed shouldn't matter to the battle tested Steelers anyway.
Indianapolis (+3.5) over JACKSONVILLE – I supposes it's easy to be inspired by the notion that the Colts veterans are playing so hard down the stretch out of love and respect for Peyton Manning. Meanwhile in Jacksonville, MJD, there is more than one way to provide for your family.
MIAMI (-2.5) over NY Jets – Let the Rex Ryan to NFL Countdown rumors begin
NEW ENGLAND (-11) over Buffalo – Congrats to the Patriots on becoming the most vulnerable #1 seed in AFC history.
OAKLAND (-3) over San Diego – The Raiders are playing for everything while the Chargers are poised to sever ties with their head coach and GM. So basically what I'm saying is that there's a good chance San Diego wins by double digits.
DENVER (-3.5) over Kansas City  – This Broncos team is going to have a legitimate shot at unseating either the Ravens/Steelers in the 1st round of the playoffs, even though they will be 7 point underdogs at home.
ARIZONA (-3) over Seattle – It's truly unbelievable to think that one of these teams will finish the season at 8-8.
NY GIANTS (-3) over Dallas – What better way to nurse your New Year's hangover than with a shot of NFC East drama. Literally everything is on the line in this game including the future of the head coaches, quarterbacks, and Dez Bryant's savings account.
Last Week 8-8 (Overall 124-114)