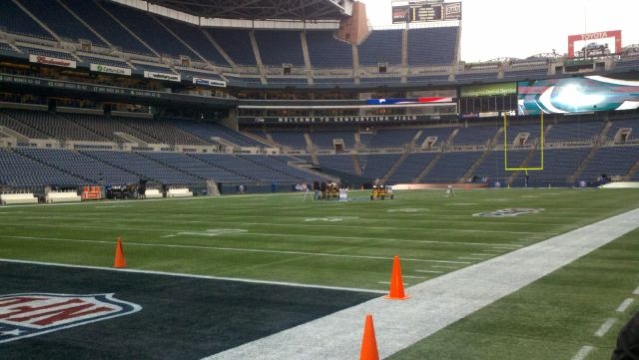 Philadelphia (-3) over SEATTLE – It's a good thing Andy Reid never changes his in game costume because I hear December's in the Pacific Northwest can get a pretty frosty.
BUFFALO (-2.5) over Tennessee – Titans clearly need this game more than the Bills but I have a sneaking suspicion that Tennessee isn't really all that good and that Stevie "Two Guns" Johnson will be able to atone for his I'll timed case of the dropsies against the Jets.
CHICAGO (-7) over Kansas City – Caleb Hanie probably doesn't deserve to be giving a touchdown at home but when the opposing quarterback is Tyler Palko, 7 points isn't nearly enough.
MIAMI (-3) over Oakland – Who grows a better looking red beard: Carson Palmer or Eli Manning? I'd like to see on of these ginger haired quarterbacks grow out the scruff over the holidays just long enough to make themselves look like Yukon Cornelius from Rudolph the Red-Nosed Reindeer.
Cincinnati (+6.5) over PITTSBURGH – Speaking of the Red Rocket, I'd be much more Team Dalton this season if his TCU team hadn't beaten Wisconsin in the Rose Bowl. While we're talking about the Badgers, is there a college basketball team more frustrating to play against than Wisconsin? It's like going up against a group of middle aged MD's during a friendly game of afternoon pickup at the local YMCA. Tons of sharp elbows, rec-specs, and sweat.
Baltimore (-6.5) over CLEVELAND – When Joe Flacco grows a handlebar mustache he looks like a member of Tony Stewart's pit crew. At halftime, I half expect to see him in the parking lot rotating Ray Lewis' tires
NY Jets (-3) over WASHINGTON – Speaking of the Nation's Capital, I'll be hanging around the Beltway this weekend just hoping to run into Alex Ovechkin and his gaggle of Soviet Supermodels.
HOUSTON (+2.5) over Atlanta – Funny, I always thought TJ Yates was a romance novelist from the 1920's.
TAMPA BAY (-3.5) over Carolina – I like Josh Freeman and the Bucs offense to finally show up against this really pathetic Panthers defense. Then again, if enough fans don't show up at Raymond James Stadium this game may or may not actually happen.
Denver (+1.5) over MINNESOTA – When Kurt Warner tells you to back off of the "genuflecting" you know you may need to reassess your priorities.
SAN FRANCISCO (-13) over St. Louis – It's hard to believe that this Rams team was a game away from making the playoff last season.
Dallas (-4.5) over ARIZONA – Why is this line only -4.5? Is Quincy Carter starting at QB for the Cowboys and nobody telling us?
Green Bay (-7) over NY GIANTS – Finally, the Giants have been exposed as the frauds we always kinda felt they were going to be.
Indianapolis (+20) over NEW ENGLAND – I would expect to see the 2011 debut of Ryan Mallett by about the 3rd quarter.
Detroit (+9) over NEW ORLEANS – Lost in the stomp and subsequent suspension is the fact that Ndamukong Suh is one of the most overrated players in the NFL.
JACKSONVILLE (+2.5) over San Diego – Lowest rated Monday Night Football game ever.
View From Seattle courtesy of @deionsanders