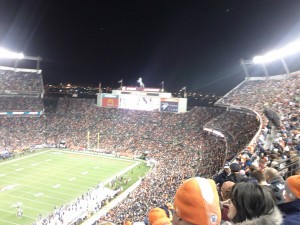 NFL Week 11
NY Jets (-6) over DENVER – I understand Tim Tebow is never going to be the most accomplished thrower of the football but aren't there a few other routes he could complete on a regular basis besides the straight down the field go pattern? Like what about a swing pass to a running back in the flat? Or a TE screen? Quick slant anybody?
Tennessee (+6) over ATLANTA – Media members think Mike Smith made a mistake last week against the Saints by going for it on 4th and 1 from his own 29 yard line while his Falcons players apparently still love the uber-agressive play calling. Either way, Falcons and Titans both still have a legitimate shot at making the playoffs.
MIAMI (-2) over Buffalo – All it took for Reggie Bush to break out of his season long malaise was the dissolution of Kim Kardashian's brief, but profitable, marriage. On a separate note, could the Dolphins be the perfect landing spot for a healthy Peyton Manning next season?
Baltimore (-7) over Cincinnati – Didn't love what I saw from the Bengals last week against the Steelers. Didn't watch much of the Ravens game in Seattle but saw enough to know that a Joe Flacco led offense is about as reliable as
Jacksonville (-1) over CLEVELAND – The Jaguars helmets remind me of those hypercolor tshirts that were big back in the early 90s.
MINNESOTA (+1) over Oakland – While most people focus on the embarrassing disappointment Titans running back Chris Johnson has been this season after holding out and signing a lucrative long term contract, maybe more attention should be given to Adrian Peterson, who also signed a new deal this summer, but who has refused to let all the new money slow him down.
DETROIT (-7) over Carolina – The Lions are going to run all over the suspect Panthers defense while avoiding the dreaded pre Thanksgiving Day trap game. There was a time when the Packers/Lions Turkey Day classic was destined to be the most impactful contest of the year. Now, this game can best be described as two ships passing in the night.
GREEN BAY (-14) over Tampa Bay – A whole bunch of sports talk show have started debating what's more likely: 16-0 for the Packers or 0-16 for the Indianapolis Colts. I say the Colts going winless is a much more likely scenario because they have absolutely nothing to play for other than Andrew Luck and the only way to get the top pick in the 2012 NFL Draft is to lose the remaining games on their schedule. If pride or saving Jim Caldwell's job were a major motivational factor you'd thing they would have already won a game or two.
Dallas (-7.5) over WASHINGTON – Best thing going for the Redskins are their yellow throwback pants.
Arizona (+9.5) over SAN FRANCISCO – Now THIS is a trap game! Niners are going to look past the lowly Cardinals in anticipation of their Thanksgiving Night game against the Ravens in Baltimore. I for one am already excited about the endless "human interest" pieces feature brothers John and Jim Harbaugh.
Seattle (+2) over ST. LOUIS – Maybe Tarvaris Jackson isn't that bad after all.
CHICAGO (-3.5) over San Diego – Maybe Philip Rivers isn't as good as we thought.
NY GIANTS (-4.5) over Philadelphia – The Eagles have been the biggest disappointment in the NFL. Now they must deal with a QB who has broken ribs and a WR with maxed out credit cards.
NEW ENGLAND (-15) Kansas City – Tyler Palko is going to be as bad as we thought.
Last Week 9-7 (Overall: 75-71)
view from Sports Authority Field courtesy of @blaxirican52