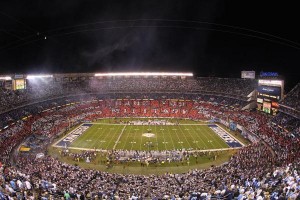 NFL Week 10 Picks
SAN DIEGO (-7) over Oakland – I had no idea that the aircraft carrier which is hosting this weekend's UNC/Michigan St. basketball game was also the same vessel that transported, and then disposed of, Osama Bin Laden's dead body. I certainly hope the same fate doesn't await the losing coach of this NCAA season opener.
Pittsburgh (-3) over CINCINNATI – It would be a great story if the Bengals were somehow able to pull off the mild upset. At 6-2, there is an outside chance, even with a loss this weekend, that Cincinnati could overtake one of the AFC East teams for a Wild Card spot, much to Jim Nantz's dismay.
KANSAS CITY (-3) over Denver – Why wouldn't the spread option work in the NFL? If Tim Tebow was successful operating this style of offense in the SEC, where the best college football athletes preside, shouldn't it stand to reason that he could do the same thing as the QB of the Broncos? Also, until he ended up on my fantasy team, I thought Jackie Battle was the starting point guard for the Minnesota Lynx of the WNBA.
INDIANAPOLIS (+3) over Jacksonville – If not now when?
DALLAS (-5.5) over Buffalo – Chalk me down as one of the many people seriously disappointed by the Buffalo Bills last weekend against the Jets. If that team doesn't have 8-8 written all over than I don't know who does.
Houston (-3) over TAMPA BAY – Houston is quietly emerging as one of those AFC teams that has a legitimate shot at making a postseason run to the Super Bowl. One Texan who won't be going all the way is Governor Rick Perry. Oooof, what a disaster!!!
Tennessee (+3.5) over CAROLINA – Not sure why a 2-6 team is giving points against a .500 club. Also, at the beginning of the season who would have thought that by Week 10, Andy Dalton is the favorite to win NFL Rookie of the Year and not Cam Newton?
MIAMI (-4) over Washington – I'll say this about the Dolphins, they sure do seem to care a heck of a lot more than most 1-7 teams. And by the way, have you seen these new Miami Marlins uniforms? Doc Brown and Marty McFly would be so disappointed.
ATLANTA (PK) over New Orleans – I like the Falcons and Julio Jones at home plus the Saints haven't be the same since head coach Sean Payton lost all of his knee ligaments.
CHICAGO (-3) over Detroit – After Monday night's victory in Philadelphia I'm officially on the Bears bandwagon. Jay Cutler is one more quality win away from ending all exercise bike jokes.
St. Louis (+2.5) over CLEVELAND – Is Peyton Hillis really missing games because of strep throat and various other maladies or because his agent has told him this is the best wat to pursue a new contract? Either way, the Madden Curse continues.
PHILADELPHIA (-13.5) over Arizona – Doesn't it seem like Andy Reid has worn the same black Eagles winter parka and hat since he started ambling on the Philly sidelines over a decade ago? He kinda looks like Costanza in the gore-tex jacket.
SEATTLE (+6.5) over Baltimore – This just feels like the sort of game where Joe Flacco and the Ravens play not to lose only to end up winning on a last second field goal.
SAN FRANCISCO (-3.5) over NY Giants – I will never buy a Hyundai from Brad Benson.
NY JETS (-1.5) over New England – Ever since the Dallas Cowboys unlocked the secret of defending against the Patriots offense, teams have been loading up on the interior pass rush and bringing their safeties down in the box to defend against the Wes Welker hitch. Good strategy, especially considering that Randy Moss is about to be busy watching his daughter play basketball for the Florida Gators.
MINNESOTA (+13.5) over Green Bay – In Ponder we trust…to cover the spread.
Last Week: 5-9 (Season: 66-64) 
view from Qualcomm Stadium courtesy of @chargers