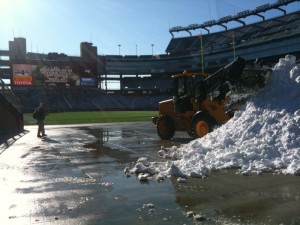 My good buddy Lucas reminded me that yesterday was the 10 year anniversary of the "Tuck Rule Game" otherwise known as "the day when I officially became a New England Patriots fan". You see, I was an NFL orphan, having been abandoned by Dan Marino and the Miami Dolphins at the end of the 1999 season. A decade ago, as an impressionable college senior in the middle of nowhere Maine, I was surrounded by a bunch of Patriot lifers who graciously accepted my into their then modest fraternity as one of their own.
Now just to be clear, I am willing to compromise my already tenuous hold on the Patriot Way by telling you that if it weren't for the 3 Super Bowls and Tom Brady I probably would have already moved on to another team like, gulp, maybe even the Baltimore Ravens. But on this, the 3,651 day since Charles Woodson DID NOT cause a Tom Brady fumble, I'm proud to say that I continue to support Pat the Patriot. That is until the Miami Dolphins trade up to draft RGIII and I bound up the attic staircase to dust off the old teal and white #13 jersey.
NEW ENGLAND (-6) over Baltimore – As a Pats fan, this is going to sound crazy but I kinda hope Joe Flacco plays well on Sunday, even if it means the game is going to be much closer than it would have been otherwise. I just can't stand to hear anymore criticism, either from the media or his teammates, especially when he has led his team to the playoffs each of his first 4 years in the league. The Baltimore media is so Ravens crazy right now that they have started to pursue a story regarding Flacco skateboarding in his driveway over the bye week like it was some sort of egregious breach of contract. The Sun and WBAL should be directing more of their venom towards the Orioles and the problems they're having bringing star players back for the team's FanFest this weekend. Oh that's right, I forgot the Birds are all but dead to the Charm City this, or any, time of the year anyway. Sigh
San Francisco (-2.5) over NY GIANTS –  As Mike Francesa says, it's been "monsooning" all week long in the Bay Area. Which team benefits from the sloppy conditions, depends on who you ask. I say it's a complete wash and this game goes down to the final possession. The reason I'm picking the Niners is because otherwise I'll have "Occupy Tyree" and prevent the former Giants WR from giving any interviews over the two weeks leading up to the Super Bowl in Indianapolis. Some pain is just impossible to overcome.