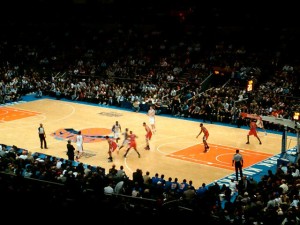 As Jerry Seinfeld once said: "Slapping hands is the lowest form of male primate ritual." We here at VMS fully support the high five and believe it has a clear and important place in this world.  In our latest set of 5 questions, we asked John Henson, co-host of ABC's Wipeout and huge New York Knicks fan, what he thinks about the 2010-11 Knickerbockers and the NBA in general.
VMS: As a big time celebrity, has it become cool again to root for the Knicks or do the scars of Isiah and Starbury still linger?
JH: It's definitely cool to root for the Knicks now.  But true fans never stopped.  I know I never did… but the reason this season feels so good to Knick fans comes from all those years of waiting.
VMS: At what point does Amar'e "tap out" and tell Coach D'Antoni that he can't keep playing 40 minutes plus a game?
JH: It's an excellent question.  With the way Amar'e is playing and the league-wide credit he's receiving for reviving the franchise (deservedly so)… he wouldn't pull himself out of a game even if there was smoke pouring out of his knee caps.  I think the bigger question is why Amar'e and Felton need to play 40 plus a night in order for the Knicks to have a chance of winning? Someone needs to break out in that second unit and establish themselves as a threat.  The more guys like Tony Douglass, Shawne Williams and Ronnie Turiaf step up offensively, the more Amar'e and Felton can preserve their legs.
VMS: Tell the truth. Raymond Felton: not quite Walt "Clyde" Frazier but definitely better than Howard Eisely.
JH: First of all, NOBODY is Walt Clyde Frazier!  36 points, 19 assists and 7 boards in a game 7 is epic by any comparison.  That said… D. N. F. W. R. F., baby!  It took, what?  Maybe 4 or 5 weeks for Felton to make everyone stop wondering how much of Stoudemire's success belonged to Steve Nash?  Felton and Stat are one of the toughest pick and roll tandems in the league, no question.  Ray hits threes, hits the floater in the lane, he's 6th in the league in both assists and steals.  And most importantly to New Yorkers, he plays fearlessly.  He's playing like an all star.
VMS: Are you one of those Knicks fans who is now talking themselves out of Carmelo or do you think they would be better with him?
JH: I met Carmelo before the season began and pitched him heavily on NYC.  I told him that all the love and affection, marketing opportunities and hero worship Lebron left on the table was waiting for him in MSG. That was before Amar'e set a franchise record for consecutive 30 point games.  At the end of the day, while it's great to see us above .500, we need another impact player like Carmelo to challenge for a championship.  The question just becomes what you have to give up to get him.  If we toss out all our young studs and have no role players left to field a team, we're screwed.  The best part about the team playing well is that we don't have to make moves out of desperation.
VMS: Who wins an arm wrestling contest: Anthony Mason or Charles Oakley?
JH: I've met both of them and Charles Oakley was so intimidating that when he shook my hand, I peed a little.  But Anthony Mason has arms like sides of beef.  Mase was probably bigger but Oak was definitely meaner… so it's a coin flip.  But I'd pay-per-view it, that's for sure…
—————————————
Thanks to John Henson for taking time out of his busy schedule to answer our questions. Hopefully the Knicks will compete long enough to give their loyal fans a taste of the postseason.