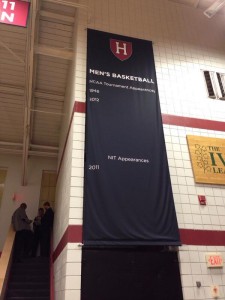 Harvard's win over New Mexico in the second round of the NCAA tournament was good news for all of us hoping to see the New England Small Conference Athletic Conference make the leap to DI athletics. The Ivy League, just like the NESCAC, does not award athletic scholarships, which certainly didn't look like it mattered Thursday evening as the Crimson's speed around the perimeter created a lot of open three point shots exposing the sluggish Lobo defense, eventually busting a whole bunch of NCAA brackets.
The NESCAC is at the top of DIII athletics with schools like Williams, Bowdoin, and Trinity competing at some of the highest levels of collegiate competition regardless of level. 'Cac schools do not award athletic scholarships relying instead on massive endowments to award need based scholarships to offset the exorbitant costs of higher education helping to create and promote socio-economic diversity.  Generally  NESCAC schools are smaller than the Ivies but the infrastructure exists within some of these rural New England institutions to increase the size of the student body and properly support DI athletic programs.
The questions for the NESCAC is why should they make the move to DI? The answer is simple: exposure and revenue. The NESCAC brand is already strong with over achieving high schoolers looking for an alternative to the Ivy and Patriot Leagues and adding DI athletics would not dilute the applicant pool but rather serve to increase the national profile of schools that are still relying heavily on the Northeast to fill their dormitories. More bodies in beds means more tuition money. Plus former NESCAC athletes like myself would love the move which will lead to an increase in school pride and a rise in annual giving.
Plus with Big Ten commissioner Jim Delany threatening a move to DIII should Ed O'Bannon's lawsuit against the NCAA go through there could all of a sudden be a massive void in top tier collegiate athletics which could be filled by the likes of Wesleyan, Amherst, and Tufts. I say the NESCAC should call Delany's bluff and 10 years from now I want to be talking about the Bates College Bobcats pushing Butler in the second round of the NCAA tournament. Ok, maybe not Bates but you get my point. – JL