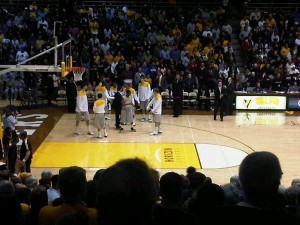 Two clues.
#1: This view will no doubt make my father in law very happy.
#2: "Bryce" was the 3rd most popular name for newborn boys born in the Midwest during late March 1998.
Also, December 7, 2010 marks the 69th anniversary of the attack on Pearl Harbor. It's important that we continue to acknowledge a debt of gratitude to those who lost their lives and those who went on to serve in our Armed Forces during WWII.
The "ARC" (Athletics-Recreation Center) on the campus of Valparaiso University in Valparaiso, Indiana.  This picture was taken during the starting introductions of a men's college basketball game between Valpo and Purdue (The Boilermakers would go on to win the game 76-58). Anybody who followed college basketball in the late '90's will remember Bryce Drew's buzzer beater to defeat Ole Miss in the first round of the 1998 NCAA Tournament. My father in law is from Indiana and swears by all things Hoosier.  To him, Indiana is the only place today where you can find basketball in its purest form. That goes for grade school rec leagues all the way up to high school and college.  I have tried to argue with him that my experiences playing basketball in New Hampshire were probably quite similar to what goes on in Indiana but he's not buying it.  To him, basketball that doesn't involve Larry Bird, Bobby Knight, or the 1954 Indiana State Championship Game is just not as good.
What does everyone else think?  Is the state of Indiana still the place to go for authentic basketball? Share your views.