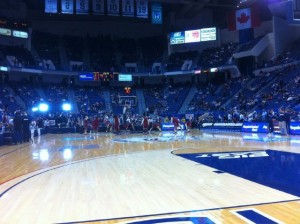 Hint: It took 89 games for the national media to notice.
photo courtesy of @RyanPBernat
My family has been asking me for weeks to mention the UConn women's basketball team's historic run to 89 consecutive victories. A full house of over 16K, along with an ESPN studio crew, packed into the XL Center in Hartford last night to witness history.
Three things about the UConn program and the streak strike me as noteworthy. 1) UConn has more talent on their bench than most top 25 team's have in their starting lineups. Due to the disparity in talent, it is not surprising that UConn continues to experience such great success. 2) Maya Moore is really good. I mean REALLY good. Of all the players that this program has produced over the last decade and a half, her name has to be near the top of the list. 3) I don't totally understand how their 89 consecutive victories "breaks" UCLA's 88 game streak back in the early 70s.  Isn't it a little like comparing apples to oranges? Aren't we talking about two different sports?  If we are talking about an NCAA streak, suppose the Oregon Ducks go on to win 89 consecutive football games. Would this count as well?
I'm not trying to minimize the accomplishments of the UConn women's basketball team.  89 straight wins, regardless of the sport, is an unfathomably difficult achievement, one that required an immeasurable amount of skill/focus/courage. I would however like to consider whether or not there is a fairer comparison to be made. For instance, what was the previously held record for consecutive games won in women's basketball? It's at least worthy of a discussion. Share your views.