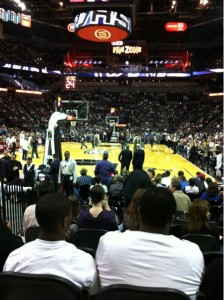 One clue: The best three point shooter in the NBA is from New Hampshire and has red hair.
Anyone who knows me understands and appreciates my love affair with Matt Bonner.  Trust me, NBA players do not grow on trees in the Granite State.  My high school was in a different class than Concord High, where Bonner went to school, so we never played against one another but everyone in the state knew who he was.  He never did win a National Championship at the University of Florida but he got a lot of TV time which was great because basketball announcers have always treated him as some what of a novelty.
Bonner has been a member of the San Antonio Spurs for the past 5 seasons.  In that time he has become one of the most lethal three point shooters in the entire NBA, which includes shooting a robust 44% from behind the arc in 2008-09. Have I mentioned he's from New Hampshire?
This year, he is still an invaluable member of a Spurs team which has gotten off to a sizzling 21-3 start.  I would like to think that Bonner is as important to his teams success as either Tim Duncan or Manu Ginobili.  Ask anyone from New Hampshire and they will tell you the same thing.
Share your views.