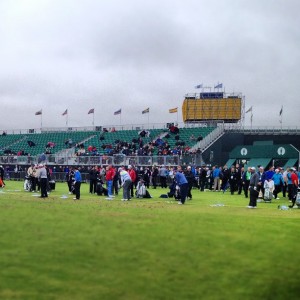 If you have ever played a round of golf then you understand how important it is to be grouped with the right mix of people. No matter the level of competition, from novice to scratch, who you play with can go a very long way towards determining the outcome of your round. Some folks don't mind playing with complete strangers, while others, like myself, prefer the company of close friends. Golf, at its finest, is an incredibly humbling sport and I typically would not want to share such vulnerability with a group of randos. Friends are there to pick you up when you take 3 to get out of a bunker and knock you down after you drain a chip shot from off the green.
Which leads me to the British Open, ahem sorry, Open Championship. (Would hate to start the column by offending any readers from across the pond.) With play about to begin Thursday at Royal Lytham and St. Annes, the R&A, that's the Royal and Ancient Golf Club to those of you outside the know, released the groupings for the 1st and 2nd rounds. If these pros are anything like us then who they are partnered with in these early rounds will play a big part in determining the champion of the 2012 Open Championship.
I think it was John Feinstein who wrote in his book on the 2002 US Open at Bethpage Black that the USGA likes to have some fun when putting together the early round pairings. Apparently they put traditionally slower players or golfers who all shared some form of the name 'Michael' together in the same group. Not sure if the R&A works in the same sort of mischievous ways but that doesn't mean that it wouldn't be really interesting to sit in on some of the discussions that took place when they settled on these groupings.
Here now are a just few superlatives for the early round groupings at the 2012 Open Championship from Royal Lytham and St. Anne's.
(all starting Thursday start times are in BST, that's British Summer Time to you and I. I really don't care to know what it's called during the winter months although I have a sneaking suspicion that a Meridian Line is involved)
Group Most Likely To Be Caught With Various Tobacco Products: 7:47 BST – David Duval, Raphael Jacquelin, and Miguel Angel Jimenez
All I can say is I sure do hope Monsieur Jacquelin enjoys a good puff now and again, (Of course he does, he's French!!!) because between Duval with his chewing tobacco (at least I assume he still dips) and Jimenez and his stogies, this group promises to be up in smoke. (Picture the cast of Mad Men on a links style course outside of Montauk.) During his halcyon years, Duval could always be found with a protruding lower lip full of enough fiberglass to build a sea kayak while for his part Jimenez, the world's most interesting golfer, can usually still be seen walking the grounds with a nice fat Cubano protruding from his mouth. (If only wine were allowed on the course. Damn R&A!!!)
Group Where The R&A Had To Let You Play As Former Winners Of The Open Championship: 7:03 – Todd Hamilton, Sandy Lyle, and Mark Calcavecchia
Calcavecchia also bears the distinction of having his wife caddy for him, which is quite an honorable feat considering this would never be allowed to happen in our household mostly because my wife and I can barely agree on what type of dressing to put on the salad let alone decide which club to hit from a buried lie in a fairway bunker. (And by the way, I'm not one of those douchey guys who refuses to play golf with his wife. Those idiots are the worst. No, I'm fine with playing golf with my better half so long as we play at a suitable pace and I get to drive the cart.)
Group Most Likely To Get Stuck In A Waggle: 10:15 – Jason Dufner, Martin Laird, Kevin Na
Kevin Na is a walking rain delay. With the amount of time he takes to hit a shot, if it is not already raining when he addresses the golf ball it will be by the time it's in the air. Dufner isn't so much a slow golfer as he is a fidgety player who with all the club waggles looks like someone superglued a shake weight to his hands. In order to fit in with the circus like atmosphere Martin Laird may want to think about developing some sort of quirky walk for the fairways.
Group Most Likely To Be Confused For A Law Firm: 12:59 – Ben Curtis, Paul Casey, Trevor Immelman
Can't you just hear the voiceover now? "Injured by a hot basket of french fries? Call the offices of Curtis, Casey, and Immelman for all your frivolous lawsuit needs. They'll work, so you never have to again."
Group Most Likely To Miss The Claret Jug: 9:09 – Darren Clarke, Ernie Els, Zach Johnson
I can't believe they make Open Champions return the trophy. How is Darren Clarke, or any former champion for that matter, expected to get anyone to go to bed with them?
Group Most Likely To Enjoy A Few Pints Together After The Round: 9:31 – Dustin Johnson, Graeme McDowell, Hiroyuki Fujita
Dustin Johnson has had an unfortunate, reckless history of being over-served while McDowell is on the record as saying he enjoyed a few too many after his 2010 US Open championship. Here's hoping Fujita knows the number of a reliable taxi service and then passes those digits along to Jason Kidd.
Group Most Likely To Talk About The Mechanics Of Their Golf Swing: 9:42 – Tiger Woods, Justin Rose, and Sergio Garcia
As you know, Tiger and Rose share the services of swing guru Sean Foley. One hopes they would be gracious enough to include Garcia in their discussions but Woods does seem like the fastidious type. Plus spitting in a cup is just plain disgusting.
Group Most Likely To Produce the 2012 Open Champion: 14:43 – Luke Donald, Phil Mickelson, Geoff Ogilvy
After a solid performance in the Scottish Open, Mickelson should be feeling much better about his chances at Royal Lytham. However, it's Donald who I'm predicting walks away with the Claret Jug and his first major championship. Of course, Ogilvy and Donald could have some sort of deep seeded feud that leads to a complete mental breakdown from the world's #1. That's just how important a grouping can be.
view from the practice range at Royal Lytham courtesy of @StephanieWei