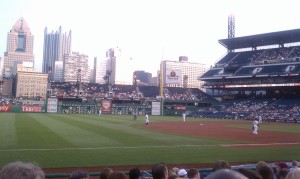 We're having a heat wave. I'm mean it's hot, dang hot. The kind of heat where it doesn't cool off even after the sun goes down. Last night, I sat on the couch to watch a few minutes of the Bruins/Canucks and was seated for a total of five minutes before sticking to the fabric. Not pleasant. I had to spend the rest of the evening pacing back and forth in front of the television.
Later, I was able to catch a few innings of the Red Sox/Yankees game from the steamy Bronx and I noticed that Alfredo Aceves was having a difficult time "managing" his perspiration. The YES Network cameras were able to pick up a considerable amount of sweat dripping from his saturated cap. It looked liked he was having a tough time picking up the signs from Jason Varitek. I'm not even sure how he was even able to hold onto the ball. Didn't seem to affect his performance however as Aceves was able to get Derek Jeter to ground into a crucial double play in the 6th.
Heading West on I-80, Andrew McCutchen's walkoff propelled the red hot Pirates past the visiting Diamondbacks by a final score of 3-2. Pittsburgh is at .500 in June for the first time since the days of Bonds, Bonilla, and Van Slyke.* I really want to like this Bucs team and could be persuaded to purchase a McCutchen #22 tshirt jersey. He's seems like an absolute star in the making and I don't know when his contract is up but can only hope that Pittsburgh is able to lock him up long term.
*I made this last part up but it really does feel like a long time since the Pirates had their heads above water this late in the season.
view from PNC Park courtesy of @MalloryCowell