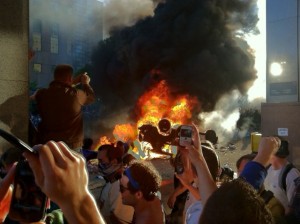 Where's Snake Plissken when you need him? Vancouver, if winning the Stanley Cup meant that much to you, why don't you just go ahead and take it? Otherwise, can you tell us how many more days of burning and looting we will experience before normalcy can return to the streets of British Columbia. Where was this passion during the Winter Olympics? I can only imagine the destruction that would have occurred if Canada hadn't won curling gold in 2010.
I would also be very interested to hear what the rest of Canada's thinks about these latest riots in Vancouver. My completely uniformed sense is that the other provinces dismiss the behavior as a typical Vancouver reaction, see 1994, and certainly behavior not indicative of all Canadian sports fans. Although, don't be so quick to judge Toronto. If your Maple Leafs ever made it, and then lost the Stanley Cup in 7, I'm sure your reaction would be a little "salty" too.
Speaking of Game 7, last night felt like a huge letdown. Granted, I don't root for the Boston Bruins, nor do I proclaim to be an sort of hockey connosiour, but still, the whole game felt a little anti-climactic. Probably because expectations were so high heading into the game. I can't remember a single hockey game generating this much buzz, of course I barely remember the Rangers winning in '94 and was just a wee little infant for the Miracle on Ice. Yesterday afternoon, a good friend of mine refused a twilight round of golf just so he wouldn't miss the drop of the puck. You just don't turn down those types of opportunities unless something really important – like your wedding or birth of a first child – pops up.
About the game, the Canucks looked tired from the start and the Bruins used their energy to attack Roberto Luongo. Tim Thomas was unbelievable in goal for Boston all series long and definitely deserving of the Conn Smythe. What happened to the Sedin twins and Ryan Kesler? I was under the impression that the Bruins defense couldn't match the skill level of these three Vancouver stars. Credit to defenseman like Chara and Seidenberg for shutting down what was supposed to be a very potent Canuck offense. And how about Brad Marchand? Pretty impressive performance for 23 year old rookie.
I feel for the Bruins a little because now, with what went happened on the streets of Vancouver after the game, the Stanley Cup returning to Boston for the first time in 39 years has already become "after the jump" news.
Enjoy the parade Boston, and remember, burning police cars isn't a healthy way of showing how much your Bruins mean to you.