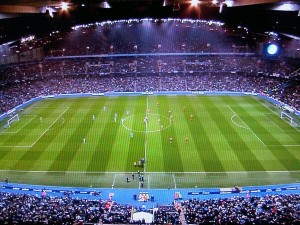 Shortly after the 2010 World Cup, I committed myself to giving professional soccer a chance.  I, like many American soccer fans, was caught up in the patriotism of Team USA's dramatic run into the round of 16. But, because I am an American soccer fan, the moment was fleeting and I have since been unable to sustain any sort of prolonged interest in the sport.
Here are a few things I do know. 1) Today's "Manchester Derby" between Manchester City and Manchester United is a big rivalry game in the English Premier League. 2)Wayne Rooney,  the Manchester United star striker, has been involved in a massive sex scandal.  3) Liverpool, of the EPL, was just recently purchased by an American group led by Boston Red Sox chairman John Henry. 4) Attendance at NCAA soccer games has increased this season. 5) The US is a finalist to host the 2022 World Cup.
Should I be in to the MLS playoffs right now?  Is the US women's team going to make it through 2011 World Cup qualifying? Share your views.