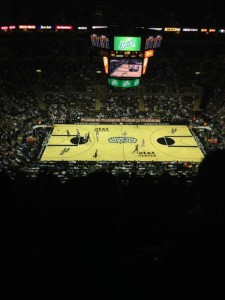 Madison Avenue awoke this morning to news that Don Draper, the unscrupulous lothario from one of New York's top ad agencies Sterling Cooper Draper Pryce, had been traded to rival agency Cutler Gleason and Chaough. In return for Draper, SCDP will receive two top CGC executives as well as future cash considerations and a case of Glenlivet. When asked why liquor was included in the transaction, CGC executive Ted Chaough said that "we wanted to clear the cabinets of as much booze as possible before the arrival of Draper". The blockbuster deal was finalized only hours before the trading deadline was set to close Thursday afternoon and brings a sudden end to what has been a long gestating process for both Draper and SCDP.
Questions persisted throughout season 4 about Draper's willingness to remain long term with Sterling Cooper Draper Pryce. Even though he was a founding member of the new agency, insiders have felt for some time that Draper had grown disillusioned with the direction of the agency that now bears his name. His contract with SCDP was due to expire at the end of the Christmas catalogue season and there was some concern within SCDP over whether or not Draper was going to sign his advertisers option which would have locked him up with his current firm for at least another year. In recent weeks, Draper had intimated to those closest to him that he would be willing to resign with SCDP if they were able to surround him with a winning team of brand managers. However, part of the problem for SCDP is that they have a lot of money tied up in a few past their prime agents like Roger Sterling. The Sterling conundrum has plagued the agency for years and just when it seemed like he had cleaned up his act for good, rumors began circulating throughout the Time Life building that Sterling may in fact be the father of Joan Harris' unborn child. How all of this affected recent SCDP negotiations with Don Draper is unclear. What is certain is that SCDP could no longer bank on Draper remaining with the agency beyond this season and needed to protect their interests moving forward.
In Draper, Cutler Gleason and Chaough get a bonifide advertising star who will be the face of the agency for years to come. Paired with Ted Chaough the two will form a dynamic duo and compete with the other titans of the advertising world. This move doesn't come without a little controversy as there were certain members of CGC board who remain unconvinced that Draper is the solution to their problems and worry that they gave up too much in the deal. Several CGC executives are worried that Draper has yet to fully recover from his divorce at the beginning of season 4. His ex wife Betty has since remarried but Draper continues to deal with concerns over his children and mortgage. Betty, who very few people like to begin with, has taken her crusade against Draper to the post office where she has written several letters of 140 characters or less admonishing the ad exec for previous infidelities and continued paternal negligence. For his part, Draper is reluctant to talk about his ex wife, choosing instead to focus on finishing the ad season strong.
Rumors are now swirling that Cutler Gleason and Chaough will insist that Draper sign a special insurance policy with the company that protects CGC from any future misconduct involving Draper, alcohol, and women. Sterling Cooper tried something similar years ago but Draper would have none of it then so it seems highly unlikely that he would agree to it now with CGC. If that's the case, CGC must try to lure other advertising agents to their firm to surround Draper with the best team possible thus ensuring that he re-signs with the company long term at the end of the season.
What happens next for Sterling Cooper Draper Pryce remains a mystery. As one of the most cunning advertisers in the game, Draper had been face of the agency for the past 4 seasons. His departure ends a successful, albeit tumultuous era for SCDP. In the absence of Draper, expect Pete Campbell and Peggy Olson to take on a much more visible roles within the company. When asked about Draper, close friend and confidant Roger Sterling said, "you just don't go and replace a talent like Don. It will take years before this firm recovers. The only thing that can dull the pain of losing Draper is that case of Glenlivet which I'm about to start consuming once I get off the phone with you."
view from the AT&T Center courtesy of @CenzParts