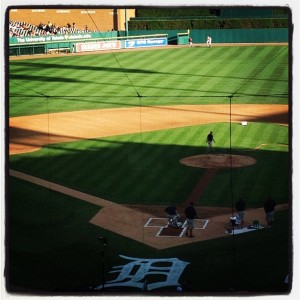 Baseball fans, like baseball players, are superstitious. The way we watch and talk about our favorite team is as important as the manner in which Derek Jeter prepares for an at bat or the reason why R.A. Dickey struggled in Cincinnati. Fear of breaking from the routine is the reason why I have been so reticent to write about the Baltimore Orioles. As you may or may not know the Birds are fighting for a playoff spot for the first time in well over a decade. With a little more than a month remaining in the regular season Baltimore is currently tied for the Wild Card lead but faces stiff competition from the Rays, A's, Tigers, and Angels. Today I'm willing to shelve my silence and superstitions in order to bring greater notoriety to a team, my team, that has continued to fight on through the dog days. Here are just a few reasons why.
To steal a phrase from everybody's favorite mid-90s sports centric rom-com, "You had me at hello Manny Machado. You had me at hello.". There isn't one person on the planet who could have predicted such a titillating start in the big leagues for one of MLB's top prospects. Precocious baseball superstars have not been uncommon in 2012 (see Trout, Mike and Harper, Bryce) but what Machado accomplished in his first week with the Orioles surpasses what most fans thought possible for a 20 year old playing out of position. In his first four games with the Orioles, Machado went 6-16 with a double, a triple, 3 HRs, 7 RBI, and 5 runs scored to help him share player of the week honors with some guy from Fenway who allows teammates to borrow his phone and text message the owner. To think, some "analysts" thought his call up to the majors was premature and an act of desperation for a team searching for its first playoff birth in over a decade. Please, Machado was always the best available option at any level to help the big league club shore up its right side of the infield even after playing only two games at the hot corner in the minors.
Along with the bravado of Machado (put that on a poster won't you) comes the panache of Manager Buck Showalter which has clearly infected players like Mark Reynolds, the latter having disappointed for most of the season until he launched himself into the hearts of Birdland after one of the most memorable Charm City tirades since the days of Earl Weaver and Mayor Schaefer. Reynolds was thrown out of a game against the Detroit Tigers Friday night for vehemently protesting a controversial call at first base. (Editors note: Tim Timmons needs to eat more carrots.) His post game comments were a thing of beauty and while some outsiders may argue that what Reynolds did and said crossed the imaginary line between competitive spirit and entitled petulance most Orioles fans could really give two shits about what anyone else thinks. It's about time this team and franchise started to act like they gave a crap because their aren't many fans left walking around the Inner Harbor who don't list the Ravens first and Orioles second in the battle for the hearts and minds of Baltimore.
And how about a heaping of praise to Nick Markakis the RF who has reinvented his Orioles career with a transition to the leadoff spot in the lineup. The Greek God of Outfield Assists continues to get on base and hit for power. Some guys are just more comfortable in certain parts of the lineup and with Brian Roberts back on the DL, and JJ Hardy better suited in the two hole, the Orioles had very little choice but to go with Markakis and at just the right time too.
Another key ingredient to the Orioles prolonged success through mid August has been the still sturdy bullpen which everyone from Pythagorus himself seems to agree is destined to eventually implode into a fiery inferno like the ill fated Hindenburg. 8th inning guy Pedro Strop gave up his first run(s) Saturday night since all the way back on July 5. (Complaining about quick pitching is for sore losers and public safety directors.) Closer Jim Johnson has 36 saves good enough for second in the AL and with a reprogrammed Brian Matusz perhaps the Birds will find the valuable left handed reliever they have been searching for.
At the start of the 2012 season, most Orioles fans would have been satisfied with a final record at or above .500, a statistical feat that hadn't happened since 1997, a prolonged streak of ineptitude that has many in Baltimore feeling like Captain Ahab. But now, 81-81 just isn't good enough and with every series victory Baltimore becomes more and more resolute. The Wild Card is in our grasp. Take it. You never know when the opportunity will come around again.