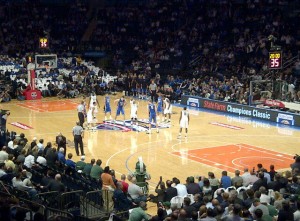 College Basketball is here and, thanks to the NBA, the stage is theirs for the foreseable future. I have trended away for NCAA hoops these past few seasons, usually waiting until March Madness rolls around and the conference tournaments begin before consuming copious amounts of basketball. So while the NBAPA decertifies, and players wait by the docks to catch the next steamship overseas, basketball fans have little choice but to delve into some early season college basketball live from exotic locations like New York City, Maui, Puerto Rico, Anchorage, and Uncasville, Connecticut.
I for one am always surprised by the high quality of several early season marque matchups. If college football programs were to adopt a similar path – tough, early season out of conference scheduling – then we may have a BCS Championship Game featuring teams with two losses apiece. Of course, the CFB season is much shorter than the CBB marathon, therefore a single loss is much more damaging to a football team's chances at a championship. Yet another reason to eliminate the BCS in favor of a true postseason playoff in college football.
Here are a few quick observations from Tuesday night's Champions Classic live from Madison Square featuring Michigan State/Duke and Kentucky/Kansas:
i – I'm happy for Coach K. Passing his mentor Bob Knight for the most wins all time is an impressive feat to say the least. Since the demise of Joe Paterno at Penn St., a few cynical twitter voices – are there any other kind – have wondered when the skeletons will emerge from the squeaky clean Duke program. If there are any cracks in the Krzyzewskiville armor, however unlikely, I highly doubt they rival anything close to the evil emerging from Happy Valley.
ii – Michigan St. still plays with a little chip on their shoulder. Their play has always modeled the gruff exterior of head coach Tom Izzo who has found great success by recruiting the mean streets of Flint and Detroit. Spartan opponents can usually expect a wayward elbow or two.
iii – Another Plumlee? Pretty soon the sports world will be run by Plumlee's, Pouncey's. and Pelini's.
iv – It's impossible for me to watch Kentucky without wondering how exactly Caliparai acquired this fresh crop of talent. The scars of two vacated Final Fours still linger as skeptics continue to wonder how it is so easy for the Wildcats to reload after losing so much talent year after year to the NBA Draft.
v – If you're a current NBA player, one of the good things about the lockout is that now you have a chance to watch your alma-mater play in person. On a slightly different note, wouldn't it be something if the NCAA all of sudden allowed NBA players to regain years of college eligibility? Where would LeBron go? Ohio State? And what team would be favored to win it all? UConn? Kentucky? Texas? The possibilities are endless.