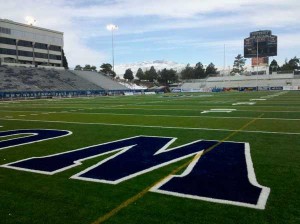 For those of you on the East Coast who stayed up to watch the entire game last night, congratulations.  You probably won't forget what you witnessed  for some time. Nevada's early morning 34-31 overtime victory over #4 ranked Boise State is an example of why college football does not need a playoff system.  It already has one, it's called the regular season.  Every single game carries such enormous weight that by adding a playoff to the end of the season, games like last night are not as important.
This morning, Boise State is out of the BCS picture and most likely headed out of the top ten.  What makes college football so special is that every game comes with consequences, good and bad, for the teams and their fans.   The current system is the reason why we watch a 10:26pm start between two WAC teams the day after Thanksgiving. This was the biggest game in both programs' history.
I'm sure fans in Idaho disagree with my position this morning.  What about the rest of you?  Is Boise still deserving of a BCS bid?  Is everyone else out there clamoring for a college football playoff? Now is the time to share your views.