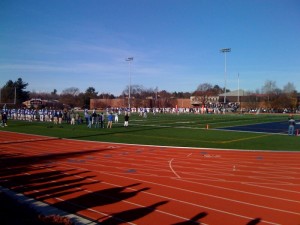 While major college football waits a few weeks for Ohio State/Michigan and Alabama/Auburn, fans/alums of Division III conferences like the NESCAC, were able to enjoy a beautiful weekend full of tradition rich rivalries. The contest that usually receives the most recognition is the matchup between Williams and Amherst.  Yesterday was the 125th time that these two colleges have squared off against one another in what is generally referred to as the "The Biggest Little Game in America".  This time around, Williams defeated Amherst 31-16, completing an undefeated season and winning the NESCAC title outright.
I was able to travel up to Waterville, Maine to watch my alma mater Colby College take on our rival Bowdoin College in the battle for the C-B-B (Colby, Bates, Bowdoin). The game did not turn out well for the Mules who lost 26-21 and ended their 2010 season at a mediocre 4-4.  All was not lost however as I was able to spend the perfect 60 degree afternoon tailgaiting with a group of friends.
This view from my seat doesn't do the day or game any justice as it would be nearly impossible to capture the overall experience in a single photograph.  For me, yesterday was proof that you don't need a 100K stadium or College Gameday to manufacture the type of environment which makes alums proud of their school and friends thankful for the opportunity to create new memories.