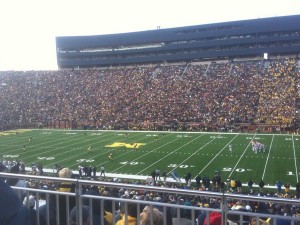 The Big Ten Conference, long known for its plodding offenses and stubborn defense, witnessed something of anomaly today in the Big House. Illinois and Michigan combined for over 1200 yards of total offense while playing a style of college football normally reserved for Auburn, Alabama and Eugene, Oregon.
While Woody Hayes and Bo Schembechler spin in their graves, Michigan fans have probably seen enough of the Rich Rod era in Ann Arbor and could be expecting another change at head coach.  I may be wrong but Rodriguez and the Wolverines never seemed like a perfect fit.  I always thought that Michigan, a school rich in football tradition, would settle on a head coach who had a previous connection to the program.  With all of the success Jim Harbaugh is having out in Palo Alto, doesn't he become a logical option should Coach Rod be dismissed?
Share your views.  Michigan alums, what say you? Had enough of Rodriguez or does the 67-65 victory give you enough to feel good about for at least another week?