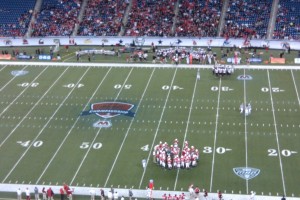 I started paying attention to college football in the late 80s.  When the 90's began, I developed an unnatural infatuation with Florida State. My childhood bedroom was literally a shrine to the garnet and gold. I had pictures of Deion Sanders in various stages of dress and undress. Stealing bases, locking down WRs, wearing huge gold chains, whatever. I used to tape the Noles' games on Saturday afternoons, so that when they rolled up 80 points on Maryland, I could watch it over and over again throughout the coming week. I was obsessed. I watched every movie Burt Reynolds was ever in.
Those early- to mid-90s FSU teams were insane. Along with Prime Time and Ward (who would recover to win the Heisman Trophy and National Championship that '93 season), other future NFL all-pros included: Edgar Bennett, both Boulwares, Terrell Buckley, LeRoy Butler, Laveranues Coles, Sam Cowart, Warrick Dunn, William Floyd, Dexter Jackson, Sebastian Janikowski (!), Marvin Jones, Amp Lee, Tommy Polley, Samari Rolle, Tamarick Vannover, Javon Walker, & Peter Warrick. I'll put those guys up against any team from any decade, ever.
Thinking back to those teams got me thinking about Charlie Ward. How good was he? Barely able to see over his offensive line, he was one of the first QBs to blur the line between Pure Pocket Passer and Running Quarterback, because he could do both. Able to throw from any spot behind the line, shrink the field with speed and quickness, and gifted with the uncanny ability to make plays at the end of games, Ward, who went undrafted by every NFL team because of his diminutive stature and little-boy-hands, went on to have a very serviceable career as a shooting point guard in the NBA.
I love making lists. "Blow" is the 4th best movie of all time. I have a preferred order of sweaters I wear to work in the winter. If you put three potted plants in front of me, I will rank the heck out of them. So, thinking about today's ACC Championship game– featuring two great Athletic Quarterbacks in Tyrod Taylor of Virginia Tech and Christian Ponder of FSU– I immediately started to rank the best Athletes Under Center of the past two decades.
5. Darian Hagan (Colorado): With his backfield mate Eric (Public) Bienemy, Hagan ran the option to a share of the 1990 National Title, with a little help from a lucrative 5-Down series in Columbia against the Tigers. At least no one in the Ozark Region is bitter about that.
4. Vince Young (Texas): Will never forget when VY slew a Goliath of a USC team in the Rose Bowl, armed only with his jackrabbit legs and a weird short-arm delivery.
3. Brad Smith (Missouri): Speaking of Mizzou, Smith still remains (for now, at least), the only college QB to rush for 4,000 yards and pass for 8,000.
2. Tommy Frazier (Nebraska): All Tommy did was win! 33 and 3 as the Husker starter. Also, in 1995, against Florida in the Fiesta Bowl for the national championship, Frazier sprinted 75 yards down the sideline, broke a bunch of tackles, and eventually carried two Gator defenders on his back into the end zone. Sounds impossible, but it happened.
1. Michael Vick (Virginia Tech): Mike earns the top spot because of his ability to pair blinding, breakaway speed with one of the strongest arms in the history of the sport. There's room for debate on this, but he once threw the ball 280 yards in the air as part of a Powerade commercial. It's real because I saw it on the TV.
Honorable Mention: Major Harris (West Virginia)

Sorry Gainesville, no Tim Tebow on my list. Feel free to disagree. Also, what championship game are you most looking forward to this afternoon? Share your views.