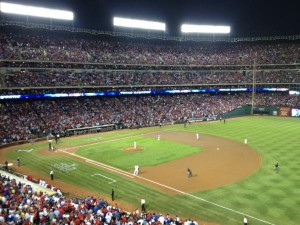 Some will say that Theo left Boston after it was revealed how dysfunctional the Red Sox clubhouse had become in 2011. And sure, the endless hours of Black Ops in the catacombs of Fenway Park remain a disgrace for the entire Red Sox organization, it was nothing so egregious as to cost Epstein his job. Others will argue that after 10 years, and 2 World Series rings, he was looking for a new challenge in a different city. And while taking over a franchise that hasn't won a World Series since 1908 presents its fair share of inherent obstacles, I'd like to believe that Epstein to the Cubs happened because of the simple fact that it is what Eddie Vedder wanted.
I'll never forget my first ever Pearl Jam concert. Back in 2006, a buddy of mine who was a loyal member of the Ten Club managed to get us two floor seats for one of the bands Boston shows. As to be expected, it was a pretty great experience full of the traditional standbys like Even Flow, Corduroy, and Alive, along with enough anti "W" Vedder speak to antagonize the most conservative sect of Pearl Jam concert goers. During the encore, the band brought out a few friends to help them out with Uncle Neil's Rockin' In The Free World. Why Theo Epstein decided to take the stage in full disguise I'll never know. But there he was, the Boston Red Sox GM jamming away next to lead guitarist Mike McCready.
Only later did I find out that Epstein was in fact a huge Pearl Jam fan and that he and Vedder had become pretty good friends throughout the years. And while a few persnickety Sox fans killed Theo for choosing a concert over Fenway Park, I always thought it was pretty cool that the guy wasn't afraid to take a break from the daily grind and partake in the kind of seminal, life altering experience that would have made even Peter Gammons jealous.
Now I can't tell you how Eddie Vedder became a Chicago Cubs fan. Whatever the backstory, the SoCal native's passion for the Northsiders prompted Wrigley Field officials to invite him on several occasions to sing "Take Me Out To The Ball Game" during the 7th inning stretch. Vedder's love for the Cubbies runs so deep that he even wrote a song about them.
Connecting the dots, it's clear from this very simple algebra that one of the primary reasons Theo Epstein became the President of Baseball Operations for the Chicago Cubs was because of Eddie Vedder. And although I can't guarantee you that Vedder will play an integral role in the pursuit of hotly contested free agent to be Albert Pujols, I can tell you to expect Pearl Jam to be one of the very first musical acts invited to serenade the Wrigley faithful during the 2012 season.
view from Ballpark in Arlington courtesy of @ravedelay