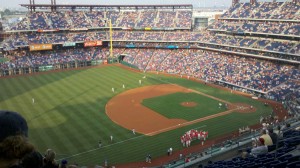 Happy 4th of July weekend everybody! Time to fire up the BBQ and celebrate our independence. Before heading out to the lake, river, or stream, take a few quick moments to peruse our list of the best red, white, and blue uniforms in American sports today. Feel free to offer an opinion on these rankings, it is a free country after all.
Red
#5: Florida State football – There's a lot of stuff going on in Tallahassee that I could do with out – Chief Osceola and his horse Renegade planting a flaming spear in the ground for one. But, what's not to love about the Burt Reynolds inspired garnet/gold?*  When watching Seminole games today it's hard not to remember the halcyon days of Neon Deion, Charlie Ward, and shoplifting at a local Dillard's.
*I made that part up about the uniform being Burt Reynolds inspired. Although, not hard to imagine seeing as how he has probably donated a ton of money to his alma mater.
#4: Detroit Red Wings – I still don't understand why the NHL decided to have the home team wear the color sweater. White at home, color on the road – with the major exception being college/professional football. In any case, the Red Wings unis continue to epitomize Detroit automotive ingenuity. Also my first, and only, personalized hockey jersey was a Detroit Red Wings Bob Probert #24, may he rest in peace. I liked Probert for the fact that he was the best fighter in EA Sports NHL '94 and NOT because of his massive cocaine and alcohol problem.
#3: San Francisco 49ers/Kansas City Chiefs (tie) – If this list included uniforms from Europe, then #3 probably would have been Manchester United. But this is America, and in America we play football none of this namby-pamby soccer stuff. Although I will say that I watched the Gold Cup finals Saturday night and came away incredibly impressed with Mexico. Could someone in the know tell me if El Tri has a legitimate chance to win/place/show in the 2014 World Cup? Also, how does the USMNT go about acquiring a player named Chicharito? The name alone has got to be good for a goal or two.
#2: Chicago Bulls – My first Michael Jordan memory is a box of Wheaties. No really. I was in the 3rd grade and my basketball coach gave me an MJ winning the '88 dunk contest poster which came from a box of Wheaties. Of course, being the impulsive, stubborn kid that I was, I wanted all of the posters in the entire series therefore my family must have gone through around 20 boxes of cereal in the span of a month.
#1: Tiger Woods on Sunday – Other professional golfers know that when Tiger's in contention on Sunday, red is off limits. Of course, it has been so long since this happened that many fans have probably already forgotten about Woods affinity for final round red. I use to think that a red golf shirt could help improve my scoring average but after countless rounds and a handicap hovering in the 20's, I think it's fair to say that the clothes do not always make the man.
White
#5: Oakland A's – The A's probably wouldn't be on this list if it weren't for their white spikes, which are technically part of the uniform. In fact, the A's were wearing white spikes long before they became fashionable a few years back. Also, white cleats really do make baseball players look svelter/faster. I believe Jason Giambi had 20 stolen bases during one season in Oakland, half of which were due to his white spikes.
#4: New York Yankees – Sorry haters, the pinstripes had to be somewhere on this list. Probably would have put them at #2 if it weren't for Steiner Collectibles already trying to sell me a commemorative cup of batter's box dirt from Derek Jeter's eventual 3000 hit.
#3: University of Alabama football – Such a simple, clean look. For a while, college football teams were getting a little carried with the redesign of their uniforms. This was undoubtedly seen as a way to sell more jerseys and increase revenue. But not the Crimson Tide. Bear Bryant would never allow it and he's been dead for nearly 30 years. I'm also surprised that, like Alabama, more college football teams don't go with #'s on the side of the helmet which seems to be a much better option than 50% of the decals out there right now.
#2: Boston Celtics – During the mid to late 90's, the Celtics jersey was unfortunately becoming synonymous with a bad a House of Pain video or a poorly timed punchline from the movie Celtic Pride. But then the "Big Three" united and brought a championship back to Boston. Now, the Celtics jersey has regained its street cred and is currently being worn by the likes of Mark Wahlberg, Dane Cook, and Whitey Bulger.
#1: Dallas Cowboys – Regardless of how you feel about the Cowboys you cannot deny that their home uniform is part of what made them America's team. Also, how many NFL teams choose to wear white at home? I can think of 3: Redskins, Dolphins (occasionally), and Cowboys. I love it when the NY Giants wear white at the Meadowlands just to mess with the Cowboys who seem to disdain their road blues. Classic NFC East gamesmanship.
Blue
#5: Boise State football – The Broncos wouldn't have even come close to touching this list 5 years ago. But then the Statue of Liberty play happened in the Fiesta Bowl and now Boise State has evolved into a perennial power in college football. I don't care however for the blue on blue jersey/pant combo especially when they play at home on the smurf turf.
#4: North Carolina basketball – All apologies to their Tobacco Road neighbors in Durham, but Carolina blue is the most recognizable jersey in college basketball. I have no idea why they ever allowed Nike to force them into those butt ugly "UNC" jerseys a few years back. That was a massive failure. Probably thought that with Dean Smith out of the way they could push for change. But if it ain't broken…
#3 Chicago Bears -At first glance, the Bears jersey probably looks more black than blue and, to be fair, that fits in quite nicely with the persona of the franchise and its city. Hard nosed football going back to the days of George Halas. I wonder what Papa Bear would have thought about Jay Cutler's knee injury against the Packers?
#2: New York Rangers – For a while the Rangers went with an image of the Statue of Liberty across the front of their blue jersey. Now they are back to the classic block lettering which I'm sure brings back fond memories of '94 when the city of Vancouver rioted for the first time.
#1: Penn State football – The more things change, the more they stay the same. Since Joe Pa is never going to retire, I think it's safe to say that these classic uniforms won't be changing anytime soon either.