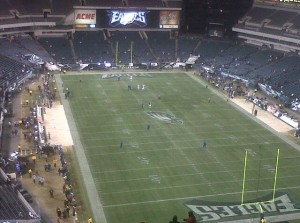 This week, we are trying out a new format for our NFL rankings post.  We are starting something called Captain's Choice where VMS and a guest take turns ranking the top ten teams in the NFL. We hope this will turn into a regular feature, even after the NFL season ends.  For the inaugural Captain's Choice I have enlisted the help of….my Dad.  Now, a few things you should know about him before we start. First off, he grew up in Baltimore and was heartbroken when the Colts moved to Indianapolis in 1983.  He has since adopted the Patriots as his favorite NFL team.  Secondly, he fully supports the comments made by Ed Rendell and will tell you that American's have been getting "soft" for decades.  I'm not sure how this will affect his rankings but it will definitely come up somewhere.
view courtesy of @justinlesko
1. New England Patriots (13-2) VMS: I can't understand how Brandon Meriweather made the Pro Bowl.  Nobody bypasses the interception for the 15 yard unecessary roughness penalty like #31.
2. New Orleans Saints (11-4) Dad: I like the championship pedigree plus the potential for a Drew Brees/Tom Brady Superbowl.
3. Baltimore Ravens (11-4) VMS: Call it a hangover from 2009-10 but I give the Ravens the best chance this year of coming into Foxboro and beating the Patriots in the playoffs.
4. Pittsburgh Steelers (11-4) Dad: Experience plus Polamalu make the Steelers a tough out come January. Of even greater concern, what's the latest on the New Year's Day weather for the Winter Classic at Heinz Field?
5. Atlanta Falcons (12-3) VMS: I was not impressed with the Falcons on Monday night.  Matt Ryan seemed to miss a lot of open receivers and their offense could not capitalize on a few New Orleans mistakes.
6. Green Bay Packers (9-6) Dad: Love their quarterback and think they will be the most difficult wild card team to knock out of the playoffs.
7. Philadelphia Eagles (10-5) VMS: Maybe Ed Rendell was right, the Chinese probably would have played through Game 3 of the 1989 World Series as well.
8. Chicago Bears (11-4) Dad: Their defense is good and they have the wild card of all wild cards in Devin Hester.  Special teams wins championships.
9. Kansas City Chiefs (10-5) VMS: I'm looking forward to watching this team play during Wild Card weekend. Double Dwayne Bowe damn near saved my fantasy season.
10. New York Jets (10-5) Dad: When things are right their defense is pretty good.  They have a world class receiver in Santonio Holmes and a potentially serviceable quarterback in Mark Sanchez.
Honorable Mention: Indianapolis Colts, Tampa Bay Buccaneers, San Diego Chargers, and New York Giants.
Thanks to my Dad for helping me out with the first ever Captain's Choice post.  Let us know if you want to be a future captain and, as always, share your views.