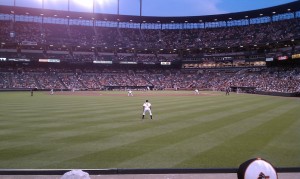 Stacey Long is the lead writer for Camden Chat, a baseball blog dedicated to the Baltimore Orioles and their fans. Just a few weeks ago, Camden Chat created a page on their site titled "View from Your Seat" where Orioles fans can send in pictures from the game. Being an Oriole fan, and Camden Chatter myself, I figured this was an appropriate time to ask Stacey about the new View from Your Seat section as well as see what she thinks about the current state of our beloved, and much maligned, Baltimore Orioles.
1 – Part of the reason sports blogs like Camden Chat are so successful is because they rely on fans/readers to drive and create content. What we do at VMS, and what you are doing with The View from Your Seat section, is allowing fans to create and share their authentic story. Why do you think so many fans are willing to share their views from the game w/ Camden Chat and how can this help create greater buzz for the Baltimore Orioles?
For baseball fans, there is no better place to be than at the ballpark. Maybe the Orioles are terrible at baseball, maybe you have a deadline coming up at work, but when you're sitting in center field with a cold beer and some peanuts, life is good. Everyone loves being at the game, and sharing pictures from trips to various parks is a way to extend some of that happiness to others. I started the "View From Your Seat" feature just a few weeks ago and I've already gotten pictures from the upper deck, the lower deck, and a private suite at Camden Yards, from several minor league stadiums, and my favorite, from a baseball game being played by troops in Afghanistan.
I don't know that it'll create a greater buzz for the Orioles; it's no secret that Oriole Park at Camden Yards is one of the most beautiful destinations in the baseball world. I do think it'll help build the sense of community that Orioles fans feel with each other and maybe draw some new fans out of the woodwork and into the Camden Chat community.
2 – What's your favorite view from OPACY? Mine would have to be section 4 of the Lower Reserve, very close to the right field foul pole and scoreboard. I like this section because the seats face the plate and you're only a few exaggerated bounds away from BBQ heaven at Boog's.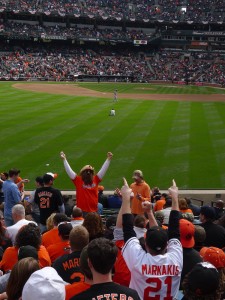 I have a few choice places to sit, but my absolute favorite is in the lower deck in left field (sections 80, 82, 84, 86). They're not the closest to the infield, but you have a fantastic view of the entire field and it's prime home run territory. Another great place to sit is right in front of the press box, sections 33, 35, 37, 39. You get that behind-home-plate feel without having to shell out for the really expensive tickets, plus you're a bit higher up than the box seats so you have a great vantage point.
3 – Here's one for you, would the Orioles be better off today if they had never moved out of Memorial Stadium and into Camden Yards? Totally ridiculous? Yes. But here's part of my thinking, no OPACY means no tourist destination which means fewer fans from NY/Boston flooding the Inner Harbor which consequently leads to them obnoxiously drowning out O's fans during the game. Of course, Baltimore restaurants/retail would probably disagree but I'm sure there are at least some old time Orioles fans that long for the days of limited parking and obstructed views.
Absolutely not. Camden Yards in the 1990s was an amazing place to see a baseball game with a full house every night, and even today I wouldn't choose any other ballpark over it. Anyone who longs for Memorial Stadium is having their opinion skewed by nostalgia and while I'm sure we'd all love for the team playing at Camden Yards to be as good as some of the teams that played at Memorial Stadium, it's silly to wish away an amazing ballpark.
As for the Yankees and Red Sox fans, one thing will drive them away (or at least shut them up) and that's winning. It's up to the Orioles.
4 – Moving forward, how do the Baltimore Orioles turn this thing around? My plan is to wait for realignment when they won't have to face both the Yankees and Red Sox 20 times a season. But until that time….any suggestions?
The Orioles need to build a team that can compete. The AL East is the toughest division, no doubt, but the Orioles haven't fielded a team that would compete in the AL Central in the last decade either. They need a stronger presence in the international market, smart drafts, and an end to stupid expensive contracts such as the ones given to Vladimir Guerrero and Michael Gonzalez. They need to stock their farm system and replenish it regularly and stop relying on every single one of their prospects to pan out in order to achieve success.
I'm in favor of a balanced schedule and even the recently suggested realignment that would create just one American League division and one National League division. That will help make the system fairer and more fun to watch, but the Orioles won't have any more luck in that scenario than they do now unless they improve their team drastically.
views from Oriole Park at Camden Yards courtesy of @staceyMlong