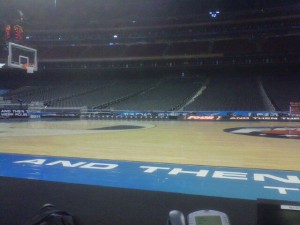 Everyone has an opinion/statistical breakdown on who will tonight's college basketball National Championship between Butler and UConn. Taking a slightly different perspective, I thought it would be appropriate to project a winner based on the order in which a starting five would be selected for an everyday average Sunday morning game of shirts/skins. The beauty of this analysis is that it doesn't rely on statistics or talent but rather pure instincts and guile.
Pick #1: Shabazz Napier – Ultimate distributor of the basketball. Doesn't look for his own shot unless wide open. Would be the most popular player in a pickup game because chuckers love playing w/ pass first teammates who would also guard the opponents best scorer. Remember, in pickup basketball nobody wants to play defense.
Pick #2: Matt Howard – Howard already looks like he belongs in a recreational league so the transition from big time NCAA hoops ought to be seamless. He would be so frustrating to play against because he hustles and rebounds, two things no hungover college student wants to do on a Sunday morning.
Pick #3: Kemba Walker – Most talented, accomplished basketball players goes third in this pick up draft because, like any scorer, he shoots a ton and nobody want to play with someone who hogs the ball because all anyone else wants to do in these kind of games is look for their own shot. I have a feeling that Kemba would fair really well going against the heavy knee brace/rec spec set.
Pick #4: Shelvin Mack – Mack loves to throw up deep 3's and in a pickup game that's ok as long as his teammates haven't crossed half court yet. If there is one thing  Sunday morning heroes hate it's not being rewarded for the effort.
Pick #5: Ronald Nored – Defense. As I have already mentioned, nobody wakes up at 730am on a Sunday morning to play defense.
Pick #6: Roscoe Smith – Is it just me or does Roscoe always look he has a black eye? Has there been an incident reported? Could be an intimidating player for a lot of pickup first timers to go up against.
Pick #7: Andrew Smith – Because there would be about 5 different Andrew Smiths' playing in the game. That and nobody wants to guard a sweater.
Pick #8: Tyler Olander – Because nobody wants to get elbowed in the face by an errant, uncoordinated elbow.
Pick #9: Shawn Vanzant – Sounds more like a member of a crime syndicate than a rec league basketball player.
Pick #10: Jeremy Lamb – Arguably the breakout player of the 2011 NCAA tourney, and future NBA lottery pick, goes last in this Sunday morning game of pickup because, based on tired appearance alone, there's a 75% chance that Lamb doesn't even make it out of bed in time to play.
So according to this Sunday morning rec league draft, I'm giving Butler the slight edge in the National Championship tonight. Final score: Butler 62 UConn 58. Of course, if things don't work out, we would be happy to have these players join us for a little game of pickup next Sunday.