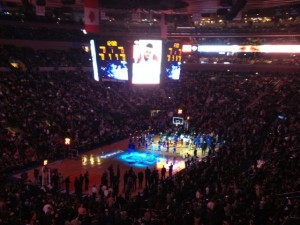 I break out in a cold sweat every time I hear this story out of the UK about a British Airways flight travelling from Miami to London that mistakenly alerted passengers that the plane was about to crash. Can you even imagine? Not what you want to hear when travelling at 35,000 feet. Granted it was all just a massive fake out but even still, does make you wonder how things like this happen.
My biggest question: what button was the pilot really trying to press when he "accidentally" pushed the one for "we may shortly need to make an emergency landing on water". What other recordings do pilots have at their disposal? How about "please clear the aisles as my copilot is about to make creepy small talk with a flight attendent before occupying the lavatory" or "look no hands".
Speaking of planes that may or may not need to make an emergency landing over the Atlantic, what's going on with the New York Knicks? They are riding a 3 game losing streak all the way to a sub .500 record that, depending on which crazed fan you ask, may or may not spell the merciful end for Mike D'Antoni and his glorious mustache. The team defense has improved but where is all the offense? If it's not Carmelo hoisting up an egomaniacal number of fade away j's then it's the "neophyte" Iman Shumpert taking control of an inexperienced backcourt. Things promise to get better when veteran PG Baron Davis and his lower back return to action in the next few weeks. Until then, Amar'e Stoudemire needs to use those rickety knees of his to take the ball strong to the basket and help keep this Knicks offense above water.